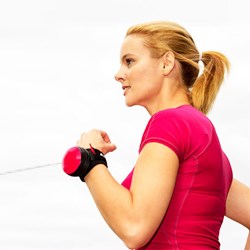 Lishinu is the most intelligent retractable dog leash that you wear like a wrist watch.
Ljubljana, Slovenia, EU (PRWEB) November 04, 2013
Retractable dog leash Lishinu is characterized by the intuitive auto-lock system, which enables a harmonic movement of man and dog. Lishinu is easy to use as well as extremely light and very strong. Further on it has a patented auto-lock solution that enables Lishinu to work very intuitively and keeps users hands free. The sound it produces when auto-lock activates calms the dog down so he stops pulling the leash. It enables its users to keep full control of the dog with simple, natural motions of their hand and body. Plus it comes in many different color options.
In addition to practicality, comfort and fresh appearance, Lishinu's team focused on the quality of the product. Choosing the right material made it possible to keep it compact and lightweight. Lishinu is designed, developed and assembled in Slovenia, European Union. Because of all of its qualities, Lishinu is just one of a kind.
Lishinu was born from a rather bitter life experience which thankfully turned into a "Hollywood like" happy ending story. Grega, one of the creators of Lishinu, three years ago adopted a greyhound named Red. After one of many regular walks, Grega had to tie his shoes. At that point something scared Red. He started to run - very fast - and was soon out of the site and lost. After four days searching for Red, he was found exhausted but okay. Grega and his cousin Rok begun searching for a solution that would prevent this from ever happening again. Twenty months later Lishinu was born.
As Rok, one of the inventors of Lishinu, said: "When designing the Lishinu, we had our goal set to offer the users an experience of walking a dog while retaining their hands free and most importantly keep full control of the dog at all time. Lishinu also allows up to three meters of cord extension."
Reviews from people who have had the opportunity to experience Lishinu in real life have further confirmed that the product is intuitive and practical. As a vet excitedly said: "Its so cool - I keep my hands free and my wrist relieved - unbelievable!" A professional dog trainer has entrusted us: "Great product, suitable for obedient as well as those 'a bit' naughtier dogs."
Lishinu is now ready and waits for your support. On Monday, November 4th 2013, Lishinu has launched the campaign at Indiegogo.com. The funds raised will be used for starting the production of Lishinu.
Be among the first to secure a Lishinu and become part of the revolution.