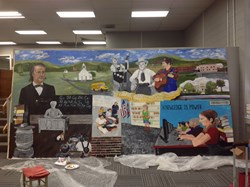 We wanted to represent the changes in schools throughout the historical timeline of Union County.
Maynardville, TN (PRWEB) October 30, 2013
The Union County Art's Council accepted the challenge of creating a mural to decorate the newly donated Shirley Lynn Collins Memorial Media Center at Maynardville Middle School Library. Local artists, Carol Pratt, Arlene Sprague, Betty Bullen, Shirley Keaton, Gloria Holcomb and Eric Holcomb drafted a story board that tells the history of Union County. Included on the 8 foot by 16 foot mural are images depicting both historical figures and iconic scenes.
Union County's rich history of music is represented by both a fiddle and guitar symbolizing the impact that native Union County musicians such as Chet Atkins, Carl Smith, Roy Acuff, and Kenny Chesney have had on the country music industry. It is said that Union County has the highest rate per capita of inductees in the Country Music Hall of Fame.
From planning to completion, the project took about six months, but the lasting impact will serve multiple generations of middle school children who can learn about their history through the eyes of a talented group of artists.