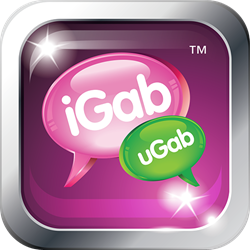 Take time to lend a hand.
(PRWEB) October 31, 2013
GoGekko looking for charity partner to share in their revenues.
As it recently announced, Gogekko, a woman-owned German/ American app development company has just celebrated their first anniversary. To coincide with this event, the developers of iGab, have decided that it is time to participate in a charity event. "Our goal with our voice messenger app iGab was to make communication more fun. We however would also like to remind everyone, including ourselves that we can use communication to do a lot of good," stated Co-founder Sabine Hutchison-Leidel.
Gogekko is now searching for the ideal partner for their charity plans. The company intends to donate 40 per cent of its profits on every download until New Year's to a selected charity. "Since iGab combines the users own voice and creative avatars that show emotion, people who download the app will be able to send personalized messages to everyone they know and at the same time show they are supporting a good cause," stated Co-founder Claudia Neumann.
The developers of iGab are currently reaching out to both local and international charities to try and find the cause that is the best fit with the app. "There are so many worthy causes out there, that it is tough choice to decide who to work together with," stated Co-founder Kathryn Hagedorn. Gogekko encourages any interested charities to get in touch with them, as the final decision has not yet been reached.
About GoGekko GbR
GoGekko GbR is a woman-owned mobile app development company based in Hamburg, Germany. iGab, GoGekko's first 3D voice messenger iOS app available on iTunes, was created to provide a fun and personalized way to send mobile messages, without being manually typed. iGab combines the user's voice with a video animated 3D character to create a one-of-a-kind visual message.