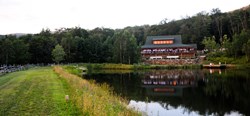 North Hampton, NH (PRWEB) October 30, 2013
The approaching holiday season marks a once-in-a-lifetime convergence of celebrations. With the first day of Hanukkah falling on Thanksgiving this year — and less than one month before Christmas — party hosts and holiday travelers alike are in for a rare multiplicity of stress-inducing scenarios. In an effort to maintain 'the most wonderful time of the year,' New England Inns & Resorts has assembled a Thanksgivukkah Survival Guide to curb anxiety and avert mid-holiday meltdowns.
"Family gatherings can be stressful enough on their own," says Beth Steucek, New England Inns & Resorts Association CEO, "we could all use a little help to weather the perfect storm of holidays that's in store this year. Innkeepers and resort owners are seasoned pros at managing a high volume of individual needs year-round. Their cool temperament and relaxing accommodations provide a perfect retreat from pre-, mid-, and post-holiday stresses."
A good night's sleep is a luxury during the holiday season, but guests of the Colonnade Hotel will have no trouble counting sheep in the comfort of Boston's premier boutique hotel in Back Bay. Their Thanksgivukkah Survival Package includes complimentary afternoon turndown service, a relaxing cool gel eye mask and a soothing cup of chamomile tea — the makings of a restorative slumber. In the morning, awake just long enough for complimentary breakfast at the award-winning Brasserie Jo restaurant, then indulge in a midday nap before a late checkout at 2 p.m.
Holiday hosts deserve special pampering. Luckily, the Holiday Spa and Shop Weekend at Vermont's Essex Resort & Spa is a perfect getaway for girlfriends looking to unwind, while checking some holiday prep off the to-do list. Pair accommodations for two nights with daytime fun, including a $300 credit for spa treatments (per person), a Holiday Hors D'oeuvres & Desserts cooking class, complimentary make-up consultations and shuttle service to Burlington's Church Street Marketplace for holiday shopping.
Need a respite from awkward family moments and the in-laws this year? Book a New England Thanksgiving Package at Cranwell Resort, Spa and Golf Club in the heart of the Berkshires. One-night accommodations on Wednesday, November 27 or Thursday, November 28 give the whole family a chance to relax and leave the cooking, carving and cleaning to the pros. Enjoy a bountiful buffet dinner featuring traditional Thanksgiving fare, a full country buffet breakfast, and full use of the Spa at Cranwell (starting at $204 per person, based on double occupancy). Children under 16 stay free when sharing a room with an adult.
For a full list of New England inns and resorts with Thanksgivukkah Survival Guide packages, visit http://www.NewEnglandInnsandResorts.com.
About New England Inns & Resorts
New England Inns & Resorts Association is a collection of New England's most distinctive, independently owned and operated lodging properties. Established in 1907 by owners of B&Bs, hotels, inns and resorts in the New England region, the Association comprises over 250 properties. Many of the lodgings are also members of Historic Hotels of America, Preferred Hotels and Select Registry. The association's website is a rich resource for consumers offering a quick reservations widget that searches all member room availability for one-stop comparison shopping and booking directly from the site.