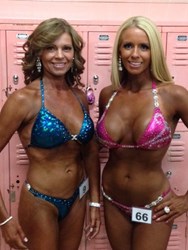 undoubtedly she'll be appearing on stage within the next year
Dover, New Hampshire (PRWEB) October 30, 2013
On Saturday October 26th The National Gym Association (NGA) and Laura J Tourtellott held its annual Granite State Open Bodybuilding Championships in Dover, New Hampshire. Enlisting 71 competitors the contest revealed some of the most highly, physically fit men and women from across the United States.
Among the competitors were Jillian Dollard, 29, COO of Integrity Health Coaching for Women located in New Hampshire and Melanie Lampron, 50, former health coach at Integrity. Both women began training just 12 weeks before the competition.
Melanie decided to compete because of a life long dream to hit the stage in the best shape of her life by her fiftieth birthday. This was also a line item on her bucket list. Jillian who was influenced by Melanie realized that this would be a great way to "up her game" and put it on the line to make a commitment to herself.
The competition hosted both males and females with classes ranging from men and women's bodybuilding, women's figure and bikini divisions. The competition was so close with so many competitors that the judges really had a challenge deciphering the placing.
After a grueling day of posing and judging all the competitors really were the one's who came out victorious. Jillian placed 4th in the Women's Bikini division while Melanie placed 6th in the Women's Figure division. Melanie didn't comment on any future plans to compete but Jillian says undoubtedly she'll be appearing on stage within the next year.
Great job to all those who competed, regardless of placement you are all truly winners! If you are looking to get your body into a competition or just look like you do please visit Integrity's web site below.