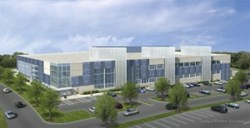 Shelton, CT. (PRWEB) November 26, 2013
Cervalis, a leading provider of IT infrastructure solutions has expanded its business continuity and disaster recovery offerings at its Totowa, New Jersey and Stamford, Connecticut data centers. To compliment the nearly full business continuity seating facilities, Cervalis has added an additional 38,000 sq. ft. of work area recovery space. The new facility site in Totowa, New Jersey is located less than ½ mile from the Cervalis data center and the new facility site in Stamford, Connecticut is located on the third floor of Cervalis' current data center.
In addition to the new work area recovery spaces, Cervalis has recently invested a significant amount to enhance its Wappingers Falls, New York facility. Cervalis, in keeping with their philosophy of the highest level of commitment to maintaining their high availability data centers, has begun a major upgrade of the systems and components that provides chilled water to the Wappingers Falls Data Center. This upgrade includes replacement of two water cooled chillers, a rebuild of the cooling towers, modernization of the major controls and replacement of several computer room air handlers. Cervalis is also installing a state of the art water treatment system for the cooling towers and a new computer room humidification system.
These are the most recent in a series of expansions at Cervalis, helping to cement its place as one of the largest IT Infrastructure Solutions and data center providers in the Northeast.
John Vernazza, Vice President of Sales & Marketing at Cervalis, states, "We are very happy with the way that our business has developed and grown in all of our data center locations. The Northeast is a perfect place for business." Cervalis' clients use their data center facilities to run their IT operations. According to Vernazza, "Our clients are enterprise clients of all sizes ranging from companies who have 50 employees to those with tens of thousands of employees and more." Vernazza describes these clients as "companies who are growing and looking for high-availability services in order to protect their IT operations and ensure their continuous operation no matter what occurs."
About Cervalis
Cervalis is a premier provider of IT infrastructure solutions including enterprise cloud computing, business continuity/disaster recovery, managed hosting, and colocation. The company's skilled professionals, world-class facilities and outstanding customer support provide our clients with a secure IT environment that ensures business resilience. Cervalis' state-of-the-art, fault-tolerant, operations and recovery centers total more than 500,000 square feet of space. Cervalis offers world-class customer support with technology needed to scale complex environments reliably and cost effectively. Cervalis is compliant with SSAE 16, PCI and Safe Harbor programs. To learn more about the Cervalis advantage and their data centers, please visit http://www.cervalis.com or call toll-free 1-866-602-2020.
For more information please contact:
Michelle Ziperstein
Marketing Communications
Cervalis, LLC
(866)-602-2020