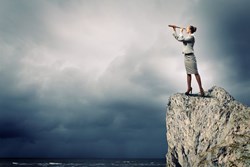 We were a little early in adopting the 'fee-only' business model. It was new and innovative and people didn't really understand the difference. It took a couple of Wall Street crises to educate consumers.
St. Joseph, MO (PRWEB) October 31, 2013
For people who have peered up in awe at national landmarks like the Grand Canyon, layer up on layer of change from water, temperatures and weather are evident. The big picture is fairly easy to discern.
In comparison, while many watch stock and investment trends, few consider the big picture regarding how the trends have shifted during the past decades.
Investment manager Dan Danford, quoted by sources like the Wall Street Journal, the New York Times, U.S. News & World Report and ABC News for his insights, is reflecting on trends and shifts as he rounds out his 15th milestone anniversary in the business.
Danford says in many ways, the banking and investment businesses have improved during the past 15 years. Today's environment may be safer, more transparent, and much more consumer-friendly than ever before. But Danford adds that compliance and regulatory burdens have prompted consolidations and mergers, which have dramatically changed the landscape -- and the changes keep coming.
Looking back to 1998, Danford admits his business, Family Investment Center, was a little early in adopting the "fee-only" investments business model. It was new and innovative and people didn't really understand the difference. "Taking the commission piece out of investment management was a clear step forward in terms of transparency, but consumers weren't yet demanding those things in the marketplace. It took a couple of Wall Street crises to educate consumers."
"Now, many professional investment firms want to portray total transparency. They want to look like a commission-free environment, but without some of the legal responsibilities or safeguards. It's a dangerous environment for clients in some ways, but it will get better going forward," he adds.
When considering the client perspective, Danford expresses that consumers have more difficulty today understanding all the legal and ethical nuances related to investment management. But, again, he believes that's getting better all the time.
Another area of big change: Local ownership has declined sharply from the investment management marketplace. Most providers are branch locations of regional brokerage firms or banks. From a profit perspective, this means that overhead costs such as compliance and insurance can be spread among a number of offices and advisors. From a service perspective, Danford feels it creates another layer of distance between the client and top decision-makers.
Consequently, from a community perspective, Danford warns that more profits from investment firms are exiting the community and flowing instead to a home office and remote shareholders.
"In earlier days at banks, millions of dollars in profits stayed in their home city as dividends to shareholders or additional net worth. Where are those prominent and philanthropic banking families today?" asks Danford. Few in the industry understand this perspective like Danford, having his own private family collection of memorabilia from the early banking industry giants – each unique, many rare and all telling the story of local ownership.
"Firms that can carefully and independently craft their investment tools and how they'll serve their customers will continue to stand out for the next 15 years," he says. "I tell people that 15 years ago, we had the luxury of designing an investment management business from the ground up. We started with a blank sheet and that's rare. Remaining commission-free is still a key part of our formula."
During the past decades, consumers have also become more aware of how their personal attitudes and experiences toward money could be helping or hindering their success. It's a concept Danford takes very seriously. He is one of only a few professionals to hold a Graduate Certificate in Personal Finance from Kansas State University, where he is also a doctoral candidate. His insights into the emotions of money have garnered national interviews from sources including the Wall Street Journal. He notes that while many investors today look for "do-it-yourself" strategies online or in popular books, the unique experience of a professional still makes a substantial difference in long-term investment success.
Given consumers' strong interest in searching out their own financial information today, Danford says that having not only professional knowledge, but academic knowledge and constantly studying the big-picture of success is also important. "As we mark 15 years, we are reminded that being able to come alongside clients and educate them on the tools we use matters - and that keeping the ownership local and staying transparent about fees and revenues helps us thrive during major industry shifts," he adds.
"We do the same things we've done for the past 15 years, and recently, others are starting to follow suit," says Danford. "It's a focus that defies the major trends and changes – and it's where we'll stay."
About Dan Danford and The Family Investment Center:
Dan Danford serves as president/CEO of the Family Investment Center, a full-service, commission-free investment advisory firm. Based in St. Joseph, Mo., Family Investment Center also serves clients in the Kansas City Northland area and thirteen states.
In 2012, Danford was featured in the book "America's Top Financial Advisors." His insights into the emotions and behaviors related to money were featured in the Wall Street Journal in 2011. A 2009 Wall Street Journal article outlined Danford's unique birthday messages to clients, complete with a $2 bill inside the envelope. In 2009, Danford was also quoted on "ABC News" for his insight into how parents can protect funds for their children's college education. He was listed as one of the 150 Best Financial Advisors for Doctors in 2008 and 2009 by Medical Economics magazine. A 2006 article in The New York Times quoted Danford's insights on working with a financial advisor. He is an NFL Players Association Registered Financial Advisor, one of a few to hold this title.
For more information, visit the Family Investment Center at http://www.familyinvestmentcenter.com/ or http://moneyisfreedomfic.wordpress.com/.