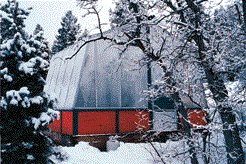 Think of your plants as Snowbirds heading South for the winter
Goldsboro, NC (PRWEB) November 01, 2013
September, October and November. Ahh, fall. Perfect for the outdoors, right? How about inside? That's right. Inside a greenhouse is an ideal place to be during the fall. The temperatures are pleasant during the day while cooling off at nighttime. It's most welcome and refreshing after the hot months of summer.
When weather calls for cold temperatures nearing the freezing mark, planning ahead is a must!
Precious plants that have been nurtured and catered to all summer long deserve a warm and healthy environment to overwinter. (Think of your plants as "snow birds" heading south for the winter.)
Here is a comprehensive cold weather greenhouse preparation list including cleaning, plant preparation, circulating and heating.
-This transition period is the best time to give the backyard greenhouse a good scrub down.
It is best to clear out the greenhouse prior to cleaning the covering.
This is an opportune time to toss, prune and purge. Keeping a greenhouse free of debris & clutter can cut down on disease. Using rubber gloves prepare a gallon bucket with a diluted bleach and water solution. Gently rid polyethylene, fiberglass, polycarbonate or glass of grime and mildew build-up with a non-abrasive brush. Clean the greenhouse glazing inside and out.

Avoid shocking plants by slowly acclimatizing them daily into the greenhouse. Check plants for disease and pests before bringing them into the greenhouse. It may be a favorite Phalaenopsis or sentimental Snakeplant but risking a greenhouse full of plants for one sick one is certainly not worth it. Turner recommends spraying plants with an organic insect killing soap that contains seaweed extract that kills Aphids, Mealy bugs and Mites among other pests. It may take more than one pass with the spray soap so be thorough being sure to spray the underside of leaves, stems and the container.
-Greenhouses need good circulation just like people. Temperatures can vary dramatically from the floor to the ceiling of a greenhouse and that temperature 'stratification' can lead to erratic growing conditions and wasted energy. Circulating air is essential for healthy plants. It reduces the humidity on and near the leaf surfaces and aids the control of leaf spot, petal blight, Botrytis blight, powdery mildew and other humidity related diseases. Air movement also helps increase the level of carbon dioxide near the plants and thus increases the rate of photosynthesis. Choose a circulator based on the square footage of the greenhouse. Base needs are 3 to 3.5 CFM per square foot of greenhouse.
-Let's talk heat! Every gas-fired and electric unit heater comes with a comprehensive and very useful owner's manual. Keeping manuals handy is a money and time-saver. Greenhouse heaters should be inspected at least annually, and the best time for an inspection is before the heater is needed. In other words, right now! Here are a few tips to get started on.
1. Check for any physical damage to the sheet metal, fans and air movers, wiring, gas piping and vent system.
2. Check for cleanliness of heat exchanger and burners.
3. Check to make certain the vent system is clear. Sometimes birds like to take up residence in unused vent pipes.
4. Check to make sure there are no obstructions blocking the air inlet or air discharge.
5. Make sure the unit is level and that the fasteners and hardware suspending the unit are secure.
6. Inspect all gas connections for good, tight fits. This includes pipe connections to the equipment as well as pilot tubing connections at the gas valve and the pilot burner.
Pull the autumn greenhouse together with a dial or digital minimum/maximum thermometer to record nighttime lows and daytime highs, in and out of the greenhouse. Recording nighttime lows will also help determine the "sweet spot" setting if it does not have a digital display.
Taking for these simple yet important steps in the fall will surely reap hours of greenhouse gardening pleasure in the winter months.