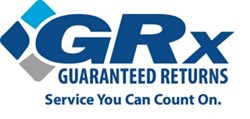 We have been a government contracted pharmaceutical returns supplier since 2001
Holbrook, NY (PRWEB) November 01, 2013
Guaranteed Returns® was recently selected by the Department of Defense (DOD) to provide pharmaceutical returns service to all military facilities outside of the 48 contiguous States and overseas facilities. Other government agencies, including most Veteran's Affairs (VA) facilities and Centers for Disease Control (CDC) have also awarded Guaranteed Returns® the opportunity to be of service to them.
"We have been a government contracted pharmaceutical returns supplier since 2001 and we look forward to continuing this relationship with the DOD, VA department and the CDC", says Guaranteed Returns® Vice President of Government Affairs, Robert Frechette. Frechette adds, "It is our privilege to work with pharmacists around the globe who serve the pharmaceutical healthcare needs of our Armed Forces and their retirees."
About Guaranteed Returns®
For over 25 years, Guaranteed Returns® has provided pharmaceutical return services to hospital, government, independent retail, chain-store, LTC, Mail-Order and clinic pharmacies. Local GRx on-site service representatives are highly valued by customers for their professionalism, trustworthiness and for "going above and beyond".
Business review consultations, inventory management assistance and an unbeatable customer service department are just a few of the attributes that customers say sets GRx apart.
Contact Guaranteed Returns® at 1-800-473-2138, on LinkedIn or at http://www.guaranteedreturns.com.