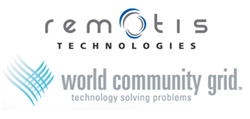 Remotis' partnership with the World Community Grid represents global volunteerism at its finest!
Alpharetta, GA (PRWEB) October 31, 2013
Remotis Technologies LLC, a global provider of innovative IT products and services, teamed up with World Community Grid over six years ago to help combat some of humanity's most daunting challenges using dedicated computing resources in the Remotis Cloud. Remotis' GOTGRID team has generated almost 16 million points and executed 21 years of computational runtime to assist with crucial research projects that address globally-sensitive issues such as diseases, environmental sustainability, and the eradication of global hunger.
Trey Davis, Remotis' Chairman and former CEO, established the partnership in 2007 to demonstrate that technology remains a crucial enabler in solving some of the world's most pressing problems. The World Community Grid currently has 629.391 members, 2,429,521 devices, and has generated an astounding 803,768 years of computational research including 1.6 billion results used by researchers around the world.
World Community Grid, powered by IBM, brings together people from across the globe to benefit humanity by creating the world's largest non-profit computing grid. We do this by pooling surplus processing power from volunteers' devices. We believe that innovation combined with visionary scientific research and large-scale volunteerism can help make the planet smarter. Our success depends on like-minded individuals - like you. (http://www.worldcommunitygrid.org).
Donate your computing resources, dedicated or surplus, to improve the health of our planet and its inhabitants. Most computers, mobile devices to enterprise servers, have surplus computing resources that could make a difference. The World Community Grid application is cross-platform, secure, configurable, and free. Are you ready to exploit unused computing power for the sake of humanity? Join GOTGRID, the team founded by Remotis Technologies, or create your own.