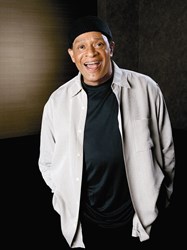 Mission Viejo, CA (PRWEB) October 30, 2013
Saddleback College radio station KSBR 88.5FM and the City of Mission Viejo are proud to announce that seven-time Grammy® Award winning vocalist Al Jarreau will guest on the next "Breakfast with Gary and Kelly" radio for TV broadcast on Saturday, November 23rd. The Saturday morning radio show will broadcast live starting at 9:00 a.m. The production will take place in the beautiful McKinney Theatre on the campus of Saddleback College in Mission Viejo.
A studio audience will be welcomed in for the 10:00 a.m. to 12:00 p.m. show; doors will open at 9:30 a.m. with the final hour being videotaped for later broadcast. The program airs on the City of Mission Viejo's MVTV Channel 30 and also airs on Saddleback College's SCTV Channel 39 throughout the Cox Communication cable system in south Orange County. The audience will be admitted for free but seating is limited. Reservations can be made online at http://www.ksbr.org.
Al Jarreau's unique vocal style is one of the world's most precious treasures. His innovative musical expressions have made him one of the most exciting and critically-acclaimed performers of our time with seven Grammy® Awards, scores of international music awards, and popular accolades worldwide. He is only the second artist – Michael Jackson was the first – to win Grammy® Awards in the jazz, pop, and R&B categories. He will be performing live as well as discussing his remarkable life and career.
Past guests on "Breakfast with Gary & Kelly" have included Debbie Reynolds, Linda Evans, David Benoit, Peter White, Diane Schuur, Keiko Matsui, Rick Braun, Paul Brown, Bill Cantos, Brian Culbertson, Nick Colionne, Spencer Day, and more. Gary and Kelly have conducted numerous remote broadcasts from locations all over Southern California, including the Festival of Arts in Laguna Beach and Catalina Island and they have hosted many celebrity guests.
KSBR is a community service of Saddleback College. The program continues the partnership between Saddleback College and the City of Mission Viejo. For more information on the Radio on TV monthly series and how to become part of the audience for this very special November 23rd show, please tune to 88.5 KSBR or visit their website at http://www.KSBR.org
Located in Mission Viejo, Saddleback College provides quality higher education and training to the greater south Orange County community. Having served more than 500,000 students since 1968, Saddleback College offers over 300 degree and certificate programs to help students reach their personal, career, and educational goals. For more information, please visit http://www.saddleback.edu and for Fine Arts information, please visit http://www.saddleback.edu/arts.