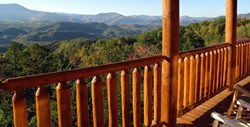 We want families to experience a hassle-free vacation when they visit the Smoky Mountains.
Gatlinburg, TN (PRWEB) October 30, 2013
Millions of people spend time planning their vacation to the Smoky Mountains each year. Jackson Mountain Homes, the premier Gatlinburg cabin rental company, wants vacationers to have an enjoyable vacation planning experience, so they have put together a few tips to help families prepare for a vacation in Gatlinburg, TN.
"We want families to experience a hassle-free vacation when they visit the Smoky Mountains," said a spokesperson for Jackson Mountain Homes. "No matter how long you choose to stay in one of our Gatlinburg cabin rentals, we want to help you plan an exciting getaway to the Smokies!"
The first step to a successful vacation, according to Jackson Mountain Homes, is to determine a vacation budget. They recommend planning ahead for lodging costs, transportation, meals, activities and entertainment. By planning ahead, families will be able to make the most of their vacation time.
Once families have decided their budget, it is time to choose where to stay. Making the number two spot on the list, Jackson Mountain Homes recommends families stay in one of their fully-equipped Gatlinburg cabin rentals. Located only a few short minutes from the Great Smoky Mountains National Park, Jackson Mountain Homes provides Gatlinburg cabin rentals with scenic views and picture-perfect settings.
The third step in planning the perfect Gatlinburg, TN vacation is to decide which time of year is perfect for a family's vacation. It helps to know how long a vacation is going to last, first. Families can stay in Jackson Mountain Homes' Gatlinburg cabin rentals anywhere from two nights to two weeks. Since every season is beautiful in the Smoky Mountains, Jackson Mountain Homes understands that families have to plan around school and work schedules, so they provide guests with specials and discounts throughout the entire year.
Celebrating 18 years of bringing families the perfect Smoky Mountain vacation, Jackson Mountain Homes provides only the finest Gatlinburg cabins and Gatlinburg chalets. Long-time friends and owners Michael Anderson and A.J. Bland pride themselves on the highest quality accommodations and service to each guest, owner and prospective owner to visit Jackson Mountain Homes. Jackson Mountain Homes' office is located next to the Old Gatlinburg Crafts District at 1662 East Parkway. For additional information on Jackson Mountain Homes, visit their website at http://www.jacksonmountainhomes.com, or give them a call at 1-866-518-0498. Office hours are 9 a.m.-5:30 p.m.