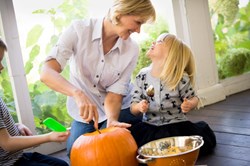 Instead of throwing out our traditions, we need to reclaim them.
Warrenton, VA (PRWEB) October 31, 2013
Violent images, television programs, and costumes. At a time when violent crime is on the rise in the US and following New York's recent mass stabbing, many people are questioning whether they should celebrate Halloween. Tamara Amos, author of Gift of a Servant, the new award-winning book that defends the tradition of Santa Claus, offers an alternative approach.
"Instead of throwing out our traditions, we need to reclaim them. We need to strip Christmas of commercialism and Halloween of violence by celebrating their original meanings," advises Tamara Amos.
Halloween originated as the Celtic festival of Samhain. The Celts carved pumpkins to celebrate the harvest and dressed in costumes to ward off evil spirits. In the eighth century, Pope Gregory proclaimed November 1 "All Saints Day" which was celebrated the evening before as "All Hallows Eve."
"Our holidays are rich in cultural and religious meaning. These celebrations add fun, flavor, and ancient wisdom to our lives. Americans should work hard to preserve them," says Amos who holds a Bachelor of Arts degree in Theology and has specialized in ministry and education for twenty years.
The 37 year old mother of four encourages parents to teach their children the history of their holidays and the rich symbolic meaning of their traditions, emphasizing their positive elements and values. "Make Halloween fun, festive, and a little spooky. Avoid blood, gore, and violence. If you give your kids wonderful experiences and meaningful traditions, they are less likely to be distracted and affected by the negative aspects of Halloween that surround them than if you don't celebrate at all."
Award-winning author, inspirational speaker, and publishing entrepreneur, Tamara Amos presents a fresh perspective on modern issues. She owns and operates Mystical Rose Inspirations, a company dedicated to promoting peace through collaboration, divergent thinking, and creative solutions.