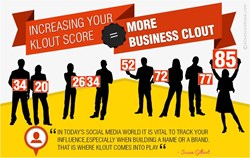 Visual content attracts visitors immediately and encourages online engagement.
Issaquah, WA (PRWEB) October 31, 2013
What if eye-catching infographics could increase visitors to a website and encourage shares in social media for new book releases? That is exactly what author and entrepreneur Susan Gilbert has done with a real-life case study with a newly released book which resulted in fast, targeted traffic and increased sales.
"Many times an author's new website won't have any traffic or social media following yet to support a book launch," says Gilbert. "The bottom line is to sell more books." She explains that general SEO strategy takes time; visual content attracts visitors immediately and encourages online engagement, which ultimately converts clicks and shares into buyers. "One of the biggest issues that an author deals with is getting targeted traffic to their website and acquiring social shares with active readers and followers," Gilbert adds.
In the infographics case study for her own book, Gilbert learned how to generate more interest in her eBook with stunning results. "The key point would be that we wouldn't ask viewers to commit to reading an entire book, or even an article," says Gilbert. "Instead, we would give them an easy and interactive way to broaden their knowledge on a particular topic. This appeal to people's sense of curiosity (along with timely content) becomes a component of the infographic's success."
"In this new world of Internet marketing, it's not about being 'optimized,' but being "easy to find," explains author and marketer, Randy Milanovic, in a recent article on Social Media Today. Milanovic added that the goal is to create content that will bring targeted buyers.
Susan Gilbert is an Issaquah, WA-based entrepreneur who specializes in website development, social media and marketing done-for-you services. Since 1987, Susan Gilbert has been a leading expert for online marketing and began to implement social media sites like Twitter and Facebook while they were in their beginning stages. She is recommended by bestselling author Glenn Plaskin and by clients including author and Inner Sports founder, Garret Kramer, Diane O'Connell, founder and editorial director of Write to Sell Your Book, and Michele Rosenthal, author of Before the World Intruded. Susan Gilbert provides evaluation of websites along with VIP coaching for entrepreneurs and businesses. Her Kindle book, KLOUT SCORE: Social Media Influence, was released in June, 2013.
For more information on Susan Gilbert and for a consultation, please contact Susan Gilbert at 425-200-5590. Also visit her personal blog at susangilbert.com for more information.