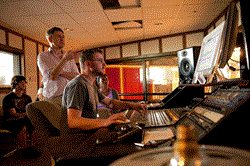 Baltimore, MD (PRWEB) November 01, 2013
UMBC's Department of Music will offer training in Pro Tools 101 and 110 this January. Led by UMBC Assistant Professor David Revill, an accomplished audio producer and Pro Tools expert, the non-credit courses will prepare individuals to become more advanced in music, film, video post-production and game audio. The training is accredited by Avid, the maker of Pro Tools.
Pro Tools 101 (January 7-9, 2014) is designed to provide the skills for participants to work with Pro Tools, from initial set-up to final production. This course provides the skills to succeed in projects that range from live recording, MIDI sequencing of software synthesizers and audio editing.
Pro Tools 110 (January 21-23, 2014) provides a more detailed look at Pro Tools as a system, taking the overview provided by the 101 course and going deeper into every aspect. This course provides the foundation for later 200-series Pro Tools Music Production and Post-Production courses.
Each course if offered for $600 per participant which includes all course materials. Participants who take both Pro Tools 101 and Pro Tools 110 during the January sessions can register for $1080, a 10 percent discount.
Learn more about the courses and access a registration form at umbc.edu/protools.