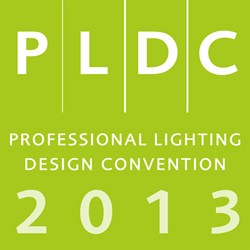 The PLDC is the perfect place to develop philosophies by exchanging ideas on the latest technology, product developments and research knowledge.
Chicago, IL (PRWEB) October 31, 2013
The PLDC began yesterday, October 30 and goes until November 2 this year and is held in Copenhagen, Denmark at the Bella Center; this three-day professional conference offers about 70 different presentations given by high-profile keynote speakers, meetings as well as discussion forums for attendees, exhibitions and awards recognizing work, actions and achievements from individuals, organizations and institutions.
According to pld-c.com, the PLDC is the largest forum for the lighting design community worldwide and has more than 1,300 attendees expected this year. "The convention offers a communication platform for established lighting designers, researchers, students, manufacturers, city planners, architects and related professionals to network, exchange and share knowledge and new approaches in the field of light and lighting."
Anyone who is working in the lighting industry with some knowledge of the lighting design market was able to submit nominations for the eight awards that will be given out at the Gala Dinner on the last day of the convention. The eight awards are as follows:

Award at Large
Lifetime Award
Award for the Best Partner in Industry
Award for the Best Project
Award for the Best Daylight Project
Award for Research
Award for Education
Award for Best Newcomer
Nominations will be anonymous for the independent jury of experts who decide the winners and the awards will be presented by the PLDR Award Jury; comprised of the Chair of the Steering Committee, two lighting designers, one architect and one representative from the industry, according to pld-c.com.
Throughout the convention there will be a section devoted to and exhibition for sponsors; a platform for connecting with leaders in the industry and lighting colleagues, making new contacts and following up relations. The sponsoring partners' exhibition "is the perfect place to develop philosophies by exchanging ideas on the latest technology, product developments and research knowledge."
Some of the sponsors exhibiting in this arena are Osram, Nimbus, LED Linear, Philips, Lucifer Lighting, Deltalight and much, much more.
There is expected to be about 71 presentations, 6 keynote speakers and 17 poster presentations all including a variety of international speakers and presenters on cutting-edge topics; with the focus on the three days at the 2013 PLDC being Lighting Application Research and Case Studies, Sustainable Lighting & Design and Professional Practice Issues, it is no question that all attendees will leave PLDC with far more knowledge, connections, networking opportunities and insight into the lighting design industry than when they came.