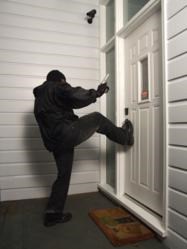 The OnGARD Security Door brace is the ultimate in home security, providing the extra layer of protection homeowners and their families need.
(PRWEB) October 31, 2013
The OnGARD Security Door Brace has sold out at a rate much faster than anticipated due to television coverage and the support of security professionals worldwide causing an overwhelming demand for the innovative security door brace. Global Security Experts sold thousands of their OnGARD Door Brace, selling out of the inventory completely, and now the company is offering a priority waiting list and exclusive gift for consumers interested in receiving the popular product before anyone else.
The first 1,200 people to sign up for the VIP waiting list will not only be placed at the front of the line for the OnGARD Security Door Brace, but they will also be given a free OnGARD Solar Powered SMART Dummy Camera, valued at $40. The SMART Dummy Camera replicates expensive security cameras, tricking criminals into believing a house is under constant surveillance.
Demand for Global Security Experts' security door brace is exceptionally high, ever since it was hailed as one of the top twenty 2011 Reader's Choice Awards in Security Products Magazine. In addition, OnGARD continues to receive accolades from television shows like Rachael Ray Show, along with top-rated networks like FOX and CNN. With its expert seal of approval, consumers across the country have turned to the OnGARD Security Door brace to prevent burglaries and home invasions.
"There has been an ever-increasing wave of violent home invasions and burglaries in the United States," said Global Security Experts Founder Jordan Frankel. "Homeowners are searching for an affordable solution to protect themselves, and like I`ve said repeatedly to the media the average alarm system simply can't do that. The OnGARD Security Door brace is the ultimate in home security, providing the extra layer of protection homeowners and their families need."
While an alarm system is an essential element of home security, Frankel says it isn't enough. An alarm system's noise serves only as a psychological deterrent, rather than a physical deterrent. The OnGARD Security Door Brace, on the other hand, keeps the bad guys outside the home where they belong and provides homeowners with the precious seconds needed to notify law enforcement of an attempted intrusion.
The OnGARD door brace's unique two-piece design utilizes the strength of a home's existing floor and a space-age polymer identical to the material used in United States Military fighter planes. The OnGARD door brace withstands up to 1,775 pounds of force and is used by law enforcement, security professionals and locksmiths worldwide.
Global Security Experts is in the process of manufacturing additional inventory of the OnGARD Security Door Brace, working 24 hours a day, seven days a week to make this revolutionary product available to consumers.
Don't miss a chance to receive this ultimate security product before anyone else; sign up for the priority waiting list now at http://www.globalsecurityexperts.com/products/security-door-brace.html.
About Global Security Experts:
For nearly two decades, Jordan Frankel has led the professionals at Global Security Experts in providing affordable, customized home security solutions for the everyday citizen. Global Security Experts offers the latest state-of-the-art security devices and physical deterrents to home invasion, as well as on-site training to families, businesses and individuals worldwide. Frankel, known as the Security Sensei, is a highly trusted authority in the field of residential security. He has completed home security makeovers and trainings for celebrities, high-profile business executives, and even a former President of the United States. Frankel and his revolutionary security inventions have been featured on several national television shows and in news outlets throughout the country, including The Oprah Show, The Rachael Ray Show, Fox News, The Boston Herald and more. Additionally, Frankel has authored countless articles for a variety of the most respected security publications worldwide. To learn more and to find out what Global Security Experts can do for you, visit http://www.globalsecurityexperts.com.