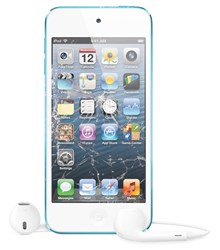 Is there a worse feeling than seeing your iPod Touch smack the ground and hearing the unmistakable crack of glass?
Minneapolis, MN (PRWEB) October 31, 2013
Ever tried sliding an iPod into a pocket only to miss it entirely and watch as the screen cracks against the floor? Is there a worse feeling than hearing the unmistakable crack of glass? This is a situation most iPod owners deal with much too frequently, and that is why Gophermods is excited to offer the new iPod Touch Repair to their portfolio of apple repair services.
The 2nd and 3rd generation iPod touch screen repair will start at $39 and will consist of a removal and replacement of the outer layer, digitizer and front housing with bezel. The service includes all parts, labor and round trip UPS ground shipping, as well as a Gophermods standard one-year warranty.
The 4th generation iPod touch, released in October of 2010 and Apples most popular iPod touch to date is the most frequent repair in the Gophermods shop. Kai Hagberg, the repair manager at Gophermods Minneapolis says, "90% of the i Pod repairs we perform are the 4th generation." The iPod Touch 4th generation is $79.99 to repair, and is more expensive since the repair includes replacing the glass, digitizer and the LCD display.
All this repair talk is great, but what if repairs are not a budget option? Looking for an alternative to repairing? Casey Profita, owner of Gophermods makes some suggestions below instead of servicing a broken iPod.
Option 1: Sell the iPod
Broken iPods can be sold online to businesses such Gazelle or uSELL. These companies will take care of round-trip shipping and pay via check within 24 hours of the device being delivered to the facility.
Pro: Easy cash for a broken device.
Con: Will not receive much money selling the iPod, with a new generation coming out every year by Apple; most professional outfits will offer less than $50 for an iPod.
Option 2: Apple Replacement
Take the iPod to a local Apple Authorized Service Provider. Note: There may be a fee for diagnostic service. Depending on the generations the Apple replacement fee runs from $99.99 to $199.99.
Pro: Apple replacement in a short time period
Con: Expensive, lose data and any personal engravings. Not a lot of Apple stores in rural areas.
Option 3: DIY
Websites such as iFixit have been springing up the past couple of years offering free detailed guides on how to take apart electronics. YouTube is another excellent source of information on how to take apart devices.
About Gophermods
Gophermods is a Minneapolis-based company that specializes in consumer electronics repair. Each year, Gophermods repairs thousands of consumer devices with OEM parts and professional know-how. Gophermods is the one stop shop for full-service game console, iPad, iPhone, iPod and Smartphone repairs.
Gophermods is accredited though the Minneapolis-St.Paul Business Bureau and is a Proud Member of the Minneapolis, MN Chamber of Commerce.
Gophermods
1170 15th Ave SE
Minneapolis, MN 55414
612-354-2937