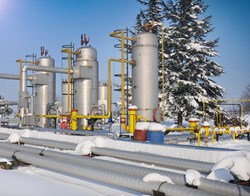 Yonkers, NY (PRWEB) October 31, 2013
Graphite Metallizing Corporation announces a range of custom GRAPHALLOY® bearings and wear rings designed for pumping low viscosity fluids such as Natural Gas Liquids (NGLs), LNG, CO2 and other light hydrocarbons.
GRAPHALLOY bearings are used in vertical and horizontal pumps for low viscosity service to help eliminate operational problems due to the poor lubricity of these liquids. The non-galling, self-lubricating features of GRAPHALLOY allow pumps to continue working even when experiencing run-dry, flashing or cavitation.
According to Graphite Metallizing Corporation, light hydrocarbons can be especially difficult for metallic bearings because the hydrodynamic film provided by these low lubricity fluids is unable to provide enough lubrication, which can lead to metal-on-metal contact, galling or seizing of the pump.
Using GRAPHALLOY bearings and wear rings allows tighter clearances, improving reliability, lowering vibration and increasing efficiency in vertical and horizontal pumps.
More About GRAPHALLOY and Graphite Metallizing Corporation
Graphite Metallizing Corporation of Yonkers, NY has been solving tough bearing problems for over 100 years. The company began in 1913 when two engineers developed a method for putting molten metal into carbon to create a new material called GRAPHALLOY, a graphite/metal alloy.
Used in the manufacture of bushings, bearings and other components for machinery and process equipment, GRAPHALLOY materials are self-lubricating, impervious to temperature extremes from -400°F to +750°F (-240°C to 400°C) and thrive in harsh environments where other bearings fail. Special grades provide reliable service up to 1000°F (535°C) and higher in non-oxidizing atmospheres.
GRAPHALLOY can be the solution to the toughest bearing, bushing, thrust washer, cam follower, or pillow block bearing design problem. It is available in over 100 grades with specific properties that meet a wide range of engineering solutions and specifications. FDA accepted grades of GRAPHALLOY are available for food contact equipment. NSF® International has certified two grades of GRAPHALLOY material for use in municipal well pumps and water treatment plant applications.
 
In some applications, GRAPHALLOY bearings have operated for up to 20 years without maintenance. Standard designs are available but most GRAPHALLOY products are custom designed to the unique requirements of the specific application. Graphite Metallizing Corporation is ISO certified. For more information about Graphite Metallizing and its products, please visit us online at http://www.graphalloy.com or call 914-968-8400.