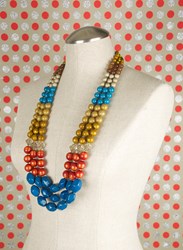 Statement necklaces that are wearable contemporary pieces of art.
Boston, MA (PRWEB) October 31, 2013
Jenne Rayburn is a metalsmith, enamellist, and seasoned designer who creates lovely, original jewelry and textile designs intended to compliment the vision of the woman who wears them. Starting November 1st, 2013, Rayburn will have an Etsy shop devoted to her Vintage Lucite Jewelry and limited edition pieces from her Vintage Collection. You can find the shop at http://www.etsy.com/shop/jennerayburn.
Lucite makes a wonderful fashion accessory for several reasons according to Rayburn. Foremost, Lucite is lightweight, making dramatic statement necklaces easy to wear. The many color options make Lucite a stand out design material. "My wearable pieces are a contemporary distillation of ancient handcrafts and jewelry, the ornament of indigenous peoples, and interpretations of nature," said Rayburn. "I love to blend art and history with form and function, combining traditional and innovative contemporary techniques to achieve dynamic color, texture and pattern effects."
Jenne Rayburn's Vintage Collection includes collar-style statement necklaces as well as necklaces with bobbles, dangles and pendants. Lucite bead bracelets and earrings complete the look for a coordinated ensemble. "With vintage Lucite jewelry, each bead radiates a lovely internal glow, unlike average plastic beads," said Jenne Rayburn, founder and designer of Jenne Rayburn Handcrafted Jewelry. "Individual beads also may be accented with various color flecks such as silver or gold glitter, or light to dark swirls of a single color, giving them depth and intensity." Lucite comes in a variety of colors, including shiny opaque, clear and jewel-like semi-transparent, yet always has a distinctive shine.
Etsy Online Craft Marketplace
http://www.etsy.com/shop/jennerayburn
Visit Jenne Rayburn's collections at http://www.jennerayburn.com.
Visit Jenne Rayburn on Facebook at http://www.facebook.com/Jenne.Rayburn.
About: Jenne Rayburn is a Boston-based jewelry/textile artist who also studied interior design and architecture, and her work explores the convergence of architecture, design, technique and identity. Balancing the demands of a career and a growing family, Jenne is a mother, wife and daughter who designs for herself and all the women in her life who want to feel uniquely beautiful and powerful. It is her hope that the wearers of her pieces will find joy in a delightful artistic statement, and also something that enhances their individuality and confidence. Her work is suitable for wedding jewelry and is carried in local galleries and online. Please visit http://www.jennerayburn.com for Jenne Rayburn's online flagship store. For wholesale information, please visit jennerayburn.com/wholesale.com.