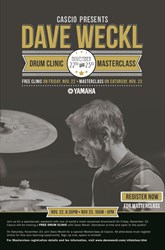 For more than 25 years, Dave Weckl has developed and maintained a reputation among fans, peers, and the international music community as one of the great living drummers.
New Berlin, WI (PRWEB) October 31, 2013
Milwaukee music store Cascio Interstate Music SuperStore, 13819 W. National Ave. in New Berlin, Wisconsin, presents jazz fusion drummer/producer Dave Weckl in a free Drum Clinic on Friday, November 22 at 6:30 p.m. Sponsored by Yamaha Drums, this clinic is open to the public and will showcase Dave Weckl's tips and techniques for drummers, yet any musician will find it interesting and informative. Arrive early for the best possible seating.
On Saturday, November 23 from 10:00 am to 6:00 p.m. at Cascio, Dave Weckl will present his one-day Drumming Intensive. The "intensive" is designed for intermediate to advanced players and lasts all day. It is limited to 20 attendees and requires registration on Dave's website, and there is a fee. Each attendee at the intensive will use a practice pad kit (provided - just bring a throne, sticks and a bass drum pedal) as Dave runs through exercises and practice routines. There will also be plenty of one-on-one feedback and Dave will also cover many of the instructional areas he's known for, including:

Foundational elements of playing drums in a musical way
Heights and angles for drums, cymbals, and stands, to accommodate the body's natural positioning
Balance and overall body form
Hand and foot technique
The foundation of natural playing
Musicality and groove (two kits in the room so that you can play WITH DAVE and get plenty of feedback)
Achieving a great drum sound
A musical approach to soloing and fills
For more than 25 years, Dave Weckl has developed and maintained a reputation among fans, peers, and the international music community as one of the great living drummers. For this, he has received numerous accolades and honors; Modern Drummer inducted Dave into their Hall of Fame and named him "one of the 25 best drummers of all time."
Dave started playing drums around the age of 8. In high school, Dave received many awards from the NAJE (National Association of Jazz Educators and at age 16, he began to work professionally with local pop and jazz groups in St. Louis, and eventually moved to the East Coast.
Legendary bassist Anthony Jackson recommended Dave for the prestigious Simon and Garfunkel reunion tour in 1983. After this tour, it was not long before Dave was regularly being called for radio and TV jingles, sound track sessions, and top recording dates with such artists as George Benson, Peabo Bryson, Diana Ross, and Robert Plant, to name a few.
In 1985, Michael Brecker suggested to Chick Corea that he look into Dave's services for his new Elektric Band. That was the beginning of a seven year relationship with both the Elektric and Akoustic Bands, where nine recordings and three videos were produced, including a Grammy for the first Akoustic Band release. As a solo artist, Dave has recorded and produced nine recordings to date, including GRP/MCA solo releases Masterplan, Heads Up, and Hardwired. More recently, Dave has enjoyed taking on more sideman work and regularly joins guitarist Mike Stern, Chuck Loeb, Oz Noy, and Chris Minh Doky and the Nomads, among others. Dave has released several instructional books and DVDs throughout his career and endorses several signature drumsticks.
Cascio Interstate Music is well-known for its extensive selection of drums and accessories and free nationwide drum catalog. Cascio is a strong player in today's musical instruments retail industry, ranking in the top 12 nationally among music retailers, providing musical instruments and accessories to musicians of all ages, including music educators and music professionals worldwide. Cascio began in 1946 in West Milwaukee as a small teaching and accordion studio owned by Frank Cascio. Today, over 75,000 musical products are marketed nationwide via catalogs and online, and locally at their SuperStore in New Berlin. Cascio also carries their own company-designed brands of guitars, drums and band instruments – Archer, Union and Ravel – for consumers and schools and major retailers across the country.