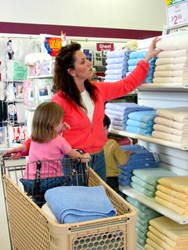 As a working Mom myself, I know just how limited my time and energy is and I really appreciate it when product or service is presented to me in a clear and simple fashion. --Tracy LeRoux
Barrington RI (PRWEB) October 31, 2013
Do you want to sell your products to a population with money and the power to make decisions? Market to women – and use social media if they have kids under 18.
According to The Link Agency, that's the word from several recent studies showing women, especially Moms, are connected and their purchasing power is huge and not going away.
A recent article in Entrepeneur quotes studies by comScore and BabyCenter showing 90% of Moms with kids under 18 use social media; an estimate by eMarketer put that number at a whopping 35.7 million women last year alone. This represents a buying power of $2.4 trillion, but most brands are not connecting with those women; 9% of the women surveyed believed marketers reached them effectively.
Further, a survey by Pew Research Center, a Washington D.C. based think tank, showed that in 43% of heterosexual couples, it's the woman who makes the decision most of time. Couples split the decision making only 31% of the time.
"Given the huge numbers and the dollar amounts involved in these studies, it's wise for businesses to realize just how influential the woman of the house can be in making any purchases," said Tracy LeRoux, Founder and CEO of The Link Agency. "This is especially true for small businesses which need to find their niche using limited marketing resources."
The studies also showed that 50% of those Moms make brand or product recommendations daily or weekly, and 21% talk to their families and friends about the products they select.
"As a working Mom myself, I know just how limited my time and energy is and I really appreciate it when product or service is presented to me in a clear and simple fashion," said LeRoux. "It's a lesson I also pass along to my clients so they can cater to their customer's needs."