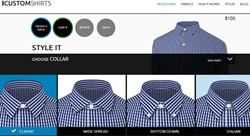 ICUSTOMSHIRTS.com was conceived as a way to radically improve the process of finding and purchasing men's dress shirts.
(PRWEB) November 01, 2013
Following a series of finishing touches and style refinements ICUSTOMSHIRTS is preparing to launch phase two of its website, complete with a fully-functional dress shirt customization tool and a secure, user-friendly checkout process. ICUSTOMSHIRTS.com was conceived as a way to radically improve the process of finding and purchasing men's dress shirts, which proves frustrating for many of those still shopping in-store.
The newly-expanded site also features a 3D-rended store exterior, which welcomes visitors with a touch of sophistication. Once inside they can navigate their way via clear calls-to-action and photorealistic 3D shots, designed to mimic the interior of a high-class fashion shop but with none of the pomp or stuffiness of the real thing.
The heart of ICUSTOMSHIRTS.com, an interactive tool for customizing men's dress shirts step by step, has been simplified further with a series of how-to videos. These brief video tutorials explain exactly how to measure for that perfect-fitting shirt, which can be achieved by measuring your upper body in a few key areas or by measuring your favourite shirt. Those details are then saved to a personalized measurement profile, making future purchases even faster and more convenient.
Phase two also includes the introduction of a variety of new fabrics, which will further broaden customization capabilities. Every fabric and every possible modification are faithfully rendered in 3D, with changes that can be previewed in real-time.
Some of the website's upgrades go beyond skin-deep. Backed by an SSL-secured checkout process, ICUSTOMSHIRTS.com can facilitate purchases according to the highest standards of internet security and data protection. Once you have customized and purchased a dress shirt for the first time, an ICUSTOMSHIRTS account is automatically created. You can edit saved measurements or use them for a future purchase, view and print past orders, reorder a previously designed shirt or continue an in-progress design at any point.
About ICUSTOMSHIRTS
ICUSTOMSHIRTS began as a way to make the fine art of tailoring more easily accessible to the modern man. The introduction of an innovative web-based design tool, supported by 3D renderings that show real-time changes, lets the user exercise as much or as little control over the design of their dress shirt as they want. The process starts with fabric selection, then style features such as collar, pocket and cuffs, finer details such as a monogram, and finishes with sizing, which offers three distinct choices depending on preference.