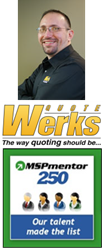 QuoteWerks is something I've put my heart and soul into for the past 13 years.
Orlando, FL (PRWEB) October 31, 2013
Brian Laufer, vice president of Aspire Technologies, Inc., was named to the sixth annual MSPmentor 250 list, officially announced today. The MSPmentor 250 list spotlights the most influential managed services provider (MSP) entrepreneurs, executives, and experts across the globe.
MSPmentor noted that Laufer, a third-time recipient of the honor, collaborates with MSPs and value-added resellers (VARs) to "ensure they have the tools necessary to grow their [companies]". In addition, Laufer leads training and onboarding for users of Aspire Technologies, Inc.'s flagship software, QuoteWerks®. He recently helped streamline Hardware as a Service (HaaS) quoting, and maintains a close relationship with distributors and other partners to ensure smooth, efficient integrations. Brian is currently working with the ConnectWise® Community as the annual IT Nation Conference approaches next month.
"I'm so pleased and humbled to receive this honor," Laufer said. "QuoteWerks is something I've put my heart and soul into for the past 13 years, and I'm proud to see the work my team and I have done come to fruition. I'm excited to see what the future holds—for MSPs, VARs, and otherwise—and can only hope to continue and grow along the collaborative path we've paved at Aspire."
"We congratulate Mr. Laufer on this distinguished honor and thank our readership community for submitting the nomination," said Amy Katz, president of Nine Lives Media, a division of Penton.
The 2013 MSPmentor 250 list was compiled based on nominees from an annual survey of MSPmentor readers during the first half of 2013, then narrowed down by MSPmentor's editorial team based on milestones over the current year, overall achievements, and ongoing MSPmentor editorial coverage.
About Aspire Technologies, Inc. and QuoteWerks®
Founded in 1993, Aspire Technologies, Inc. is one of the early pioneers of the quoting-software space. Its flagship product QuoteWerks® has received numerous awards and is the market-leading sales-quoting and proposal solution, serving 66,000 users in more than 100 countries. QuoteWerks® integrates with leading CRM, PSA, and accounting packages, along with IT distributors D&H®, Ingram Micro®, SYNNEX®, and Tech Data®, which enables businesses in all industries to integrate QuoteWerks® seamlessly into their existing environments. Aspire Technologies, Inc. is headquartered in Orlando, Fla., and is a Microsoft Certified Partner. For more information, please visit http://www.quotewerks.com or http://www.quotewerks.com/facebook. QuoteWerks®: The trusted name in quoting™.
QuoteWerks® is a registered trademark of Aspire Technologies, Inc. Other trademarks referenced are the property of their respective owners.