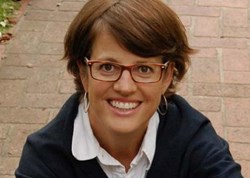 By reserving a program with Corrigan now, audiences can be among the first to hear the author speak about this future bestseller.
Newton, MA (PRWEB) October 31, 2013
Kelly Corrigan, American Program Bureau Exclusive speaker and New York Times bestselling author of "The Middle Place" and "Lift," is currently scheduling speaking engagements to coincide with the release of her new book, "Glitter and Glue." Scheduled for release in February 2014, Corrigan's heartwarming memoir addresses the complicated yet loving bond between mothers and daughters.
The story recounts the author's experiences as a nanny in Australia, interspersed with Corrigan's childhood interactions with her own mother, and examines why we choose the people we admire and how this criteria changes over time. The title of the book refers to a saying by Corrigans' mother in describing her family: "Your father's the glitter, but I'm the glue."
Corrigan's book tour will begin on February 11th in New York City and will take her to many cities throughout the country including Atlanta, Denver, Chicago, Washington DC, Boston, Houston and more. This nationwide tour also makes it easy for Corrigan to be available for speaking engagements, due to her flexible itinerary and proximity to her tour appearances. By reserving a program with Corrigan now, your audience can be among the first to hear the author speak about this future bestseller while sharing her riveting life story.
As an author and breast cancer survivor, Kelly Corrigan speaks courageously on topics such as care giving, overcoming obstacles and motherhood. Her humor and heartfelt presentations allow her to share her most personal stories which inspire all audiences to love the life they lead and bravely accept the cards they have been dealt. Additionally, hospitals, women's organizations, and nonprofits will connect intimately with the stories she shares.
Organizations wishing to book Kelly Corrigan should contact American Program Bureau at 1-617-614-1600 for information on available dates and program topics. For more information on American Program Bureau, please visit http://www.apbspeakers.com. For a profile on Ms. Corrigan, please visit http://www.apbspeakers.com/speaker/kelly-corrigan.
About American Program Bureau
Founded in 1965, American Program Bureau's mission is to provide a forum for the world's foremost thought leaders to enlighten and inspire. APB's roster includes an array of leading speakers on the topics of family, health, and wellness, including Kelly Corrigan, Dr. Richard Carmona, Gail Sheehy, Jane Seymour and more, as they share with audiences their personal stories of perseverance and being in control of one's own destiny.
The global leader in the professional speaking industry, APB represents hundreds of speakers and serves thousands of clients worldwide. Today, the APB family includes leaders across the realms of literature, healthcare, government, business, and entertainment, including Mikhail Gorbachev, Archbishop Desmond Tutu, Richard Branson, Michael Douglas, and many others.