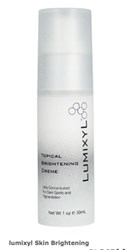 (PRWEB) October 30, 2013
In recent skincare news, Lumixyl has been proven to be highly effective for diminishing the appearance of dark spots in all skin types. In an October study of 33 Hispanic women that used the Lumixyl Brightening System over 16 weeks, lumixyl decreased the appearance of melasma by 60%. In another study published in the Journal of Cosmetic and Laser Therapy of 15 Asian and Caucasian females showed 85 percent of the study volunteers achieved significant or complete improvement in their hyperpigmentation over 24 weeks with standardized photos confirming the results.
Precision Aesthetics is proud to offer Lumixyl to their patients in New York. Lumixyl is a tyrosinase inhibitor that effectively blocks the enzyme that can overproduce melanin to form dark spots in skin. Along with Lumixyl, Precision Aesthetics is a proud supplier of Australia's leading skin care line, Ultraceuticals, as well as Elure and Obagi. For feeding the skin from the inside Dr Zdinak offers her own vitamin skincare line, Genetiskin, which she developed by choosing the best supplements for their unique abilities to nourish and protect the skin.
In addition to lumixyl, Lisa A Zdinak, medical director of Precision Aesthetics, chose Silkpeel® Dermalinfusion® in her practice after evaluating hundreds of other "microdermabrasion style" machines as the best treatment for her clientele in New York. Silkpeel works to resurface skin with medical grade diamonds, while simultaneously infusing vitamins into skin to target dry skin, hyperpigmentation, acne and photodamage. In fact Silkpeel has earned the name the "black tie facial", because it is so clean, patients walk out of the clinic refreshed and beautified and straight to a black tie event with only a slight glow on their skin vs "sandblasting" from traditional microdermabrasion. Silkpeel and Lumixyl are both part of Envy Medical professional skin care line marketed in the US and over 35 countries.
Dr Zdinak's Precsion Aesthetics is located at 10 West 74th street, steps away from Central Park. A wide variety of International and local VIPs frequently go to Dr Zdinak for her expertise in injectables and her ability to pick and choose the best technologies from every corner of the planet. Frequent trips to International AntiAging Congress where she not only lectures but researches the latest offerings from other countries give her clientele the opportunity to be treated by the best technologies in the world. Local news channels use her as their "go to doctor" on blood fillers or growth factor fillers and other stories. Also she has an uncanny ability to pick the absolute best technologies for non invasive treatments. She was the first to adopt every major upgrade by thermage dating back to 2007 for loose skin, and was also the first with Exilis from the Czech Republic for body shaping as well as the first Illumiwave Lipocontour 635 in New York for overall fat loss. And finally another recently added product by Envy is ClarityMD for its superior ability to treat acne