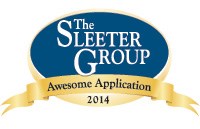 There has been an explosion of new technologies designed for every stage of the business process.
Las Vegas, NV (PRWEB) November 04, 2013
Have you heard of "chunkification" of business processes? If not, you will soon. Nine accounting software solutions for small business were recognized as "Awesome Applications" by The Sleeter Group, an international network of consultants who recommend software solutions for small businesses. The awards were presented at the Accounting Solutions Conference at Caesars Palace Las Vegas (#Solutions13).
Winners of the 2014 "Awesome Applications" honor are: BigTime Mobile, an app that gives users full timesheet and expense tracking from anywhere; TSheets, an employee time-tracking system that can be used on mobile devices and desktop computers connected to the Internet; Tallie, a paperless business expense reporting platform; BizTools Professional Analytics, which provides in-depth business intelligence, profit monitoring, and other robust analytics; MISys Manufacturing, for manufacturing, shop floor control and MRP; OneSaas, which allows users to connect multiple cloud applications together via a central online database; ShipRush, an automated shipping solution that integrates with QuickBooks; Run, Powered by ADP Payroll for Partners, a full-service payroll platform that provides accountants with a suite of payroll, HR and time and attendance tools; and Corecon v7, a suite of estimating, project management, job cost control and scheduling programs.
Winners of the 2014 Awesome Application awards were chosen for a combination of their outstanding integrations, ease of use, and design. The concept of "chunkification" of the business process is simple but very important, according to The Sleeter Group's president and CEO, Doug Sleeter. It means businesses can pick from several different applications that integrate with each other, as opposed to using one accounting system that might not be a good match for the specific needs of the business. With connected "chunks," businesses can find the best solutions for each of their business processes such as inventory, time tracking, billing, payments, ecommerce, reporting, shipping or other functions.
"There has been an explosion of new technologies designed for every stage of the business process, so the key is helping businesses find the best match for their needs, without having to rely on a single provider," Sleeter said. "The Sleeter Group spends thousands of hours each year evaluating hundreds of technologies to determine how well they perform their core functions, ease-of-use, design, and how well they integrate or share data with other apps and business management systems."
To select the winners, The Sleeter Group combines the results of online public votes with the expertise of a panel of technology thought leaders. More than 18,000 online votes were cast in this year's selection process. To qualify for the Awesome Applications honor, technologies must integrate with common business management systems and provide intuitive design, ease-of-use and conformance with appropriate accounting and security standards.
About The Sleeter Group
In addition to hosting the annual Accounting Solutions Conference, attended by hundreds of accountants and consultants, The Sleeter Group has a network of more than 750 accounting and technology experts who are dedicated to helping accountants and small businesses work together more effectively. Its consultant members have helped more than 300,000 small- to medium-sized businesses across the country. The Sleeter Group also offers reference books, webinars, seminars a QuickBooks consultant certification program, practice management tools, teaching systems, assessment exams and a restaurant accounting tool kit.