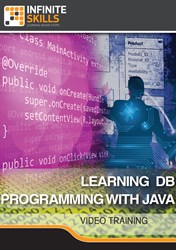 Learn Database Programming with Java at your own speed.
(PRWEB) October 31, 2013
Software training firm Infinite Skills Inc. this week released its "Java Database Programming Tutorial," an advanced course designed to assist Java programmers in connecting Java to popular database platforms, including MySQL and the open-source Derby platform that is part of NetBeans.
Java is currently one of the most popular programming languages in use, especially in client-server web applications. For web apps involving databases, Java has built in connectivity and drivers allowing it to connect to a wide range of platforms.
Infinite Skills' Java Database Programming Tutorial teaches the tools and techniques for using these elements of Java, looking specifically at creating a Java application for MySQL and Derby.
Java Database Programming Video Training
Course author Mike McMillan has eight software development titles to his credit. He has taught introductory computer programming courses at the college level for more than 14 years. McMillan's proficiencies include Java, C++, C#, Python, Perl and other mainstream platforms prized by industry leaders.
After an introduction, in which McMillan provides an overview of the course along with guides for installing Java and MySQL on both Windows and Mac systems, the course begins with an introduction to MySQL, explaining fundamentals like how to set up a database and work with tables and data.
The following chapter explores the problem of connecting Java and MySQL, looking at Java's driver, how to work with tables to perform queries and updates, and how to insert and remove data. The chapter includes a four-step final project, in which McMillan demonstrates how to apply these techniques to establish a Java connection to MySQL.
The course continues by exploring NetBeans, as McMillan explains its installation and setup as well as how to create and work with tables. The chapter is immediately followed with a chapter project in which students are guided through the creation of a database application that integrates Java and MySQL using the NetBeans platform.
The course closes by looking at Derby, a database platform built-in to Netbeans itself, allowing users to access database functionality directly within the open-source Netbeans platform, without having to add an exterior database.
Free demo videos and a full list of course contents can be found on the Java Database Programming training page on the company website:
http://www.infiniteskills.com/training/java-database-programming.html
Infinite Skills offers the Java Database Tutorial either as a DVD or a direct download from the company website at a retail price of $24.95. InfiniteSkills tutorials are compatible with both Mac and Windows operating systems. Shipping is available around the globe. Additionally, InfiniteSkills tutorials are supported by project files which correspond to examples in the videos.
About Infinite Skills Inc.
A leader in the field of software training, Infinite Skills designs its courses on a task-oriented model, teaching complex skills by providing hands-on examples and guiding users as they carry out essential functions. Infinite Skills offers a wide range of software titles available as DVDs, digital downloads, and in iPad editions. Infinite Skills now offers a subscription service, providing access to all its training content for a monthly fee, keeping with company's aim of delivering professional training to customers anywhere they want to learn.