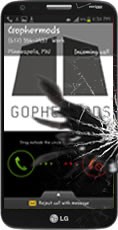 Minneapolis, MN (PRWEB) October 31, 2013
Gophermods is proud to announce that they are now offering the LG G2 screen repair now for $219. The new repair services are an even more affordable solution when LG G2 breaks.
Is there a worse reaction than seeing a brand new LG G2 smack the ground and hearing the unmistakable crack of glass? Just picking up the phone and realizing the screen is shattered top-to-bottom. This is a problem every smartphone users deal with far too often, which is why Gophermods is excited to offer the new LG G2 screen repair to our arsenal of LG G2 repair services.
The LG G2 screen repair introductory price is $229 and this repair will cover the replacement of the out glass, digitizer and LCD IPS display. The service price includes round trip UPS ground shipping, labor, all parts and a standard one-year warranty against manufacture defects.
Repairing is a great option, however if insurance was purchased, wouldn't it be more wise to deal with an insurance deductible? Casey Profita, Gophermods owner says, "I have insurance on my phone too, and I love it, but I'll only use it if I lose my phone. It makes much more sense because I can only use it maybe once before my policy expires. A screen repair is less expensive than a phone replacement."
As of October, Gophermods will be the only company offering the LG G2 repair on a nationwide scale. It will be featured in their Minneapolis store locations and offered through nationwide mail programs.
Fear the phone might be too damaged? LG screens hold up to incredible forces, but it is important to note that in some instances, the LCD display is broken, too. LG designed the G2 with a complete screen replacement in mind, so when Gophermods replaces the screen, they replace the LCD display too.
Still scared it might be too damaged? If the repair outfit cannot resolve the devices issues, there will be no service fee for simply taking a look at the phone. Provided, the phone is brought into one of the local repair shops; mail-in repair programs have a non-refundable $19.99 to cover shipping.
News from Gophermods.com
About Gophermods
Gophermods is a Minneapolis-based company that specializes in consumer electronics repair. Each year, Gophermods repairs thousands of consumer devices with OEM parts and professional know-how. Gophermods is the one stop shop for full-service game console, iPad, iPhone, iPod and Smartphone repairs.
Gophermods is accredited though the Minneapolis-St.Paul Business Bureau and is a Proud Member of the Minneapolis, MN Chamber of Commerce.
Gophermods
1170 15th Ave SE
Minneapolis, MN 55414
612-354-2937