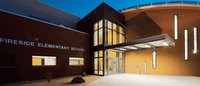 "We will feature three case studies on schools that are or will be near net zero energy campuses," says Thomas M. Simmons.
Oakland, CA (PRWEB) October 31, 2013
Fast and Green: Opal Cliffs Case Study for Soquel Union School District, an online AIA continuing education course, is scheduled for Tuesday, November 19, at 12pm Pacific, on DesignRealized.com. Lesley Miles, AIA, LEED AP, Principal, with Weston Miles Architects, will discuss a sustainable design approach to a 4-classroom school that was constructed as an alternative to portables.
An online course on Net Zero Schools: Communicating Benefits and Value to Stakeholders will take place on Tuesday, December 17, at 12pm Pacific. Premnath Sundharam, Southwest Practice Leader and Architect with the DLR Group, will discuss three factors that are instrumental in designing a near net-zero school. They include Client Vision and Commitment, Aggressive Energy Modeling, and Reduction/Production Strategies.
"More and more schools are being designed with sustainability in mind," says Thomas M. Simmons, curriculum developer. "We will feature three case studies on schools that are or will be near net zero energy campuses."
Founded in 1986, Weston Miles Architects, Inc. is an award-winning architecture and landscape architecture corporation that for almost a decade has consistently been recognized by the SV Business Journal as one of the top 25 architecture and design firms in Silicon Valley. The DLR Group is an integrated design firm providing architecture, engineering, planning, and interior design from offices coast-to-coast and in China. They are an Architecture 2030 firm.
The current DesignRealized AIA Continuing Education 8-Part Series is focused on Eco-Responsible Design 2030. Speakers for these programs are leading architects, consultants and contractors from such firms as EHDD, Arkin Tilt Architects and AIM Associates.
The LearnVirtual development team creates the curriculum for DesignRealized continuing education programs. LearnVirtual specializes in the design and implementation of training programs for AEC professionals. With an emphasis on online learning, LearnVirtual empowers individuals and companies with professional skills and industry intelligence that can be applied in everyday work environments.