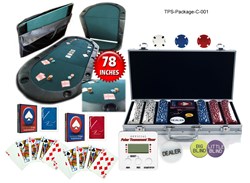 We are so grateful for our fans and customers and continue to look for ways to reward them for their support.
College Station, Texas (PRWEB) November 01, 2013
The Texas Poker Store is reporting another successful year of growth, customer engagement and product line expansion. That success has led Jim Paris, TPS owner, to announce an across-the-board ten percent discount on their entire inventory in stock beginning on Thanksgiving Day and going to Christmas, including Hanukkah, Black Friday and Cyber Monday!
"We did this last year and it was a big hit," says Paris. "It gives holiday shoppers an added incentive to purchase from our online store and hopefully brings in new customers who just want to take advantage of lower prices."
In terms of expansion, TPS has signed with furniture designer Francisco Navarro to create a line of custom poker tables exclusively for the Texas Poker Store. The custom design table line will be launched at the beginning of 2014. It is expected to be a welcome addition by TPS's customers and followers and will begin by accepting orders based on customers' specifications that will allow them to specify table styles, as well as felt colors and graphics. The customers will be able to provide their own graphics, including company logos, or choose from a series of pre-designed graphics for the table.
"We've been receiving a lot of requests for custom tables, especially for companies or poker groups who want to promote their brand with their logo and other graphics," Paris says. "Navarro has come up with a unique way to accomplish this for the Texas Poker Store and we're extremely excited about it. We'll be promoting the custom tables on our site and on social media once we get closer to the product launch."
The Texas Poker Store has been engaging their customers and supporters throughout the year in a variety of ways, including running several contests from their Facebook page. One that will continue to run until the November Nine begin play on November 5 is to predict the 2013 World Series of Poker Final Table Winner and Runner Up. The first person who correctly selects, picks or otherwise predicts the Grand Champion of the 44th Annual World Series of Poker before the Final Table begins play will receive $100 certificate to spend on poker chip sets or anything they want from our in stock inventory. In addition, the first person who correctly predicts the winner and the runner-up (second place winner) will win a total of $200 worth of poker-related supplies from our online store.
"We've also followed up for the second year with our Predict The Score contests whenever the Texas A&M football team played one of their SEC rivals, combining our love of Aggie football with our love of poker," says Paris. "We still have three conference games to go, and we tweet out the contest rules several times before each game."
This year, TPS has had several winners, including Aggie Swim Coach and English teacher at A & M Consolidated High School, Ryan Goodwyn, who came the closest to predicting the final score of the A&M vs. Arkansas game and won a Texas A&M Neon Wall Clock; Frankie S., who was the only contestant who picked Auburn and thus won the double set of Copag poker playing cards; and Brian Scott Ayers, who came the closest for the Aggies vs. Ole Miss game and won a set of 200 poker chips.
"It's been a great year for the Texas Poker Store," concludes Paris. "We are so grateful for our fans and customers and continue to look for ways to reward them for their support."
About the Texas Poker Store
The Texas Poker Store is a fully-stocked online poker store that offers 100 percent secured shopping. It features hundreds of poker supplies from poker cards, to the finest in luxury poker tables, folding poker tables and a variety of poker table tops. It carries poker chips and chip cases, poker novelties and collectibles, poker books and DVDs and the perfect gifts for any game room. You can find the Texas Poker Store's website at http://www.texaspokerstore.com, or visit their blog at http://www.texaspokerstoreblog.com Follow them on Twitter and keep up with them on FaceBook and you can even pin us on Pinterest.
Jim Paris
Chief Dealer
Texas Poker Store
979-595-7390