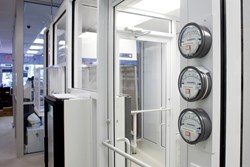 You have to have good techniques to prevent contaminating what you are working on," Valero said.
Largo, FL (PRWEB) November 01, 2013
The pharmacy's three rooms with glass walls look like something out of the future.
Inside, a special HVAC system maintains perfect temperature, humidity and air pressure. A two-way refrigerator and pass-through windows ensure a completely sterile environment to prepare solutions.
The set-up is part of the launch of Doctor's Choice new sterile compounding lab, the next step in the pharmacy's ambitious expansion plans. The new lab at the Largo pharmacy, which is already equipped with a non-sterile compounding lab, will mean Doctor's Choice can provide non-standard dosages and customized medicines for the unique needs of patients.
Now, Doctor's Choice, will be able to meet the needs of patients whose doctor wants to adjust dosage levels, or for patients who have difficulties taking medicine orally or have adverse reactions to one compound in a medicine that they need.
"I believe this is the future," said Vice President Shola Yusuf, "Our focus is how do we take this to the next level?"
To spearhead this bold expansion, Doctor's Choice has hired Yarisi Valero RPh NPh, a graduate of the Massachusetts College of Pharmacy with 14 years experience of running a compound pharmacy.
"We hire experts," Yusuf said. "We don't want to just do it, we want to improve it."
Medicines made in compounding labs are very sensitive to the environment. That puts tremendous responsibility on the pharmacy to make sure patient safety is not compromised.
That is achieved through high-tech equipment, like laminar flow cabinets and Hepa filters, combined with a fastidious adherence to strict hygiene rules by staff working inside and outside the sterile compounding lab.
"There are guidelines we follow to ensure patient safety," Valero said.
The sterile compounding lab consists of an ante-room, where pharmacists can operate a faucet with their knee to scrub clean their hands. They then don a gown, a hairnet, shoe covers, a facemask and non-latex sterile gloves. Rules ban jewelry and cosmetics in the lab.
Once dressed, the pharmacist can enter the two other rooms where a pass-through window is used to provide supplies the pharmacist needs to work. Any containers passed into the lab are wiped down with alcohol.
Daily, weekly and monthly wiping down of equipment, surfaces and floors is also essential to maintain the sterile atmosphere.
"You have to have good techniques to prevent contaminating what you are working on," Valero said.
The lab safeguards mean that in addition to creams, capsules, troches and other dispensing means, the pharmacy can also prepare sterile injections.
Regulations require sterile labs to conduct air-monitoring checks and tests for molds, fungus and bacteria every six months. Doctor's Choice plans to do those tests daily and monthly, Valero said.
That includes using a soy and dextrose agar dishes to look for bacteria, fungus and mold.
The compounding lab at Doctor's Choice will be inspected annually by the Florida Board of Pharmacy, to ensure state and federal laws safeguards are being followed and a sterile environment maintained.
"Operating a compounding facility is a detailed and delicate process," Valero said. "And at Doctor's Choice Pharmacy & Compounding, we pride ourselves in the quality work we are doing."
For more information contact Doctor's Choice compounding pharmacy via their website (http://www.mydoctorschoicepharmacy.com) or call Ms. Yarisi Valero at (727) 498-8600.