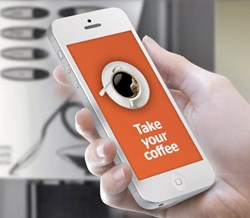 "Cupflow is a clever solution to an age-old problem: how do you give away free coffee?" - TechCrunch
Rome, Italy (PRWEB) November 01, 2013
Among the latest wave of smart connected devices pushing the frontier of "The Internet of Things," Cupflow is a unique user experience that facilitates social interactions between people and drink dispensing machines. With Cupflow's pioneering smart interfacing technology, a customer can scan a 2D barcode on the machine with their smartphone, login to Facebook, receive their beverage, and share their experience with their network of family and friends.
Originating in Italy, Cupflow brings together the very best of the nation's industrial design and renowned cult of taste into an espresso machine that brings Italy's famed coffee culture into the Social Age. Cupflow showcased its rumored brewing beauty at TechCrunch Disrupt Berlin on October 28th and 29th. Attendees at the event had the opportunity to enjoy their very own cup of Italian espresso a la social. The showcase garnered significant buzz, with the TechCrunch blog highlighting Cupflow among the features at the Startup Alley worthy of attention. According to the blogger, John Biggs, "Cupflow is a clever solution to an age-old problem: how do you give away free coffee?"
Since being discovered in Africa, coffee has followed an illustrious path, arriving on the shores of Venice in the 17th century. It immediately impacted Venetian culture and was adopted as a drink for social gatherings. The Italian café was born and before long the café craze began to spread throughout the world. As demand increased, inventors and tinkerers began experimenting with innovative ways of preparing and serving the perfect cup of coffee. In 1948, Achille Gaggia invented the modern espresso machine, perhaps the most important leap forward in coffee preparation, until now. 65 years later the first espresso machine powered by a smartphone has finally arrived. Since it arrived in Italy, coffee has always brought people together. And now they have done it again, making coffee even more social, and this time, there is no limit to the amount of people who can be gathered together.
Cupflow brings a fresh way to create fun and engaging social media campaigns, customizable with text, links, and hashtags. Adaptable to any type of vending or dispensing machine, Cupflow offers boundless ways to interact with smart appliances and dispensers. Recent studies have shown that if a person shares their drink selection with their network, that post brings in over 200 views. Considering the price of a cup of coffee, this is a highly cost-effective campaign.
"It's a no brainer… the results are too good for marketers to ignore," says Claudio Carnevali, CEO of OpenPicus, the parent company of Cupflow.
New and exciting smart devices are rapidly appearing due to the plummeting prices of processing chips and affordable cloud computing. More than a passing trend, these smart connected devices are creating new possibilities for communication and socializing. Cupflow stands at the center of this period of rapid and exciting change, bringing the human element into the evolution of "the Internet of Things."