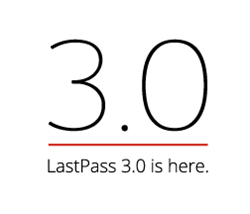 'I love the new user experience. Very clean and pleasant and a nice improvement,' said Jeffrey S., a LastPass user of 5 years. 'Thanks for the great program!'
Fairfax, VA (PRWEB) November 04, 2013
The new release features:

Revamped user experience and user interface
Responsive field icon menus
A LastPass Family Feature, with use of a Shared Folder for sharing multiple logins
Enterprise Shared Folder support for non-Enterprise users
And more
More details and screenshots can be found on our blog post: http://blog.lastpass.com/2013/11/lastpass-30-is-here-new-design-new.html.
"We've focused on creating an experience that is more intuitive. With a cleaner, unobtrusive design, LastPass can help users get where they want to go, without getting in the way," said LastPass CEO and Co-founder Joe Siegrist. "We want to continue providing a great service that users want to use, that's available for free."
New User Experience Focuses on "Field Icon Menus"
The most significant change to the product, LastPass now notifies and interacts with a user through icons that appear in the fields on a webpage as they're browsing. The LastPass notification bars that previously appeared at the top of the browser are being phased out.
Clicking on the field icon will reveal a dynamic menu that changes depending on what LastPass anticipates the user wants to do with that field. If it's a login form, the user will see all matching logins for that site. If no logins are stored for that site, LastPass will ask if the user wants to save it as they type. If it's a "create password" field, the user sees the password generator. If it's a shopping form, the user will see their Profiles. The field icon menu also expands for quick access to the other LastPass tools.
The LastPass browser addon menu has been simplified and now includes a search field. The vault has also been updated to reflect the new look and feel.
Mobile
The Premium mobile apps for Android and iOS now have a browser-forward experience. The LastPass browser now has quicker access to logins and Profiles, so users can add sites easily, generate new passwords quickly, and enjoy a more seamless mobile experience overall.
LastPass Family Plan
With the new LastPass Family Feature, LastPass Premium users can utilize a Shared Folder with up to 5 family members. Family members who need to share access to more than one account can be added to the Shared Folder, and the logins and notes they need to use can be dragged-and-dropped into the Shared Folder. Updates are then kept in sync across all family members sharing the folder. Only the creator of the Shared Folder must be Premium.
Enterprise Updates
LastPass Enterprise administrators can now give non-Enterprise users access to their Shared Folders. Up to three non-Enterprise users can be given access to any Enterprise Shared Folder. The new functionality is particularly useful for those who may need to give contractors or part-time employees temporary access to sites.
Upgrading to 3.0
Most existing LastPass users will receive prompts to update their browser extensions to 3.0 or will be notified when they are upgraded silently.
The updated Android app is now available on the Google Play Store, and the iOS app is in review and pending release by Apple.
Availability
LastPass 3.0 is free for unlimited use on all desktop browsers. The LastPass mobile apps continue to be part of the Premium upgrade, $12 per year for unlimited access to all Premium features.
About LastPass
LastPass (http://www.LastPass.com) is the leading password and data management service, providing online users worldwide an easy, fast, and secure way to manage access to their digital life. It's free to install on all browsers and computers, with a Premium upgrade for mobile access and added features. LastPass Enterprise provides a centralized and cost-effective password management platform for companies, with the option to add SAML-based single sign-on for federated identity management of cloud applications. LastPass is a Fairfax, Virginia-based company founded in April 2008.