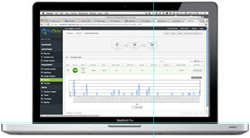 Marchex is... helping us address a wide array of new prospects.
Cupertino, CA (PRWEB) October 31, 2013
TapClicks, the digital presence company, today announced that the Marchex 'Call Analytics' technology is immediately available through its leading TapClicks 3.2 Digital Marketing Analytics Platform.
Marchex, a leader in mobile phone technology, is widely employed for tracking of phone-based advertising campaigns. Their XML-RPC web service and their great support team made it easy for TapClicks to integrate the call analytics technology into TapClicks' existing reporting systems and infrastructure.
The TapClicks Cloud Marketing Analytics Platform quickly connects performance metrics from Google Analytics, Google and Bing Ads, Facebook, Twitter, reputation monitoring, SEO tools, email-newsletter platforms, and now, Marchex Call Analytics. Digital agencies use the TapClicks Analytics Platform to report performance of their clients' outbound marketing efforts at the website, campaign, creative, and keyword levels. The TapClicks Analytics Platform gives them the ability to compile client reports, schedule regular formatted reports to be sent to clients by email, and give their clients access to their own sets of analytics dashboards.
The TapClicks Marchex integration makes Call Analytics metrics a desirable addition to the user-configurable TapClicks digital marketing analytics platform. Call-Tracking dimensions allow tracking by Ad Group and Ad Campaign. Group/campaign details are organized as follows:
Total Calls
Unique callers
Answers
Voicemails
Hangups
Average Duration
Users can easily drill down into campaigns to see detailed campaign metrics, such as:
Number of calls
Call Date
Caller Name
Caller Number
Call Duration
Call Status
Links are also provided so that captured calls are available for review in the platform.
"Marchex is the leader in mobile phone and call-tracking technologies," said Babak Hedayati, CEO of TapClicks. "This integration is a beautiful addition to our TapClicks Analytics Platform -- not only is it very interesting to our installed base of customers, but it's rapidly helping us address a wide array of new prospects as well."
TapClicks provides digital-marketing solutions and performance analytics for its clients. Founded in 2009, Tapclicks operates out of offices in Silicon Valley, Canada, India and Mexico.
Marchex supports its customers through a unique technology platform of Call Analytics, Digital Call Marketplace, and Local Leads. Call Analytics powers all Marchex advertising solutions, and allows partners to leverage data and insights that accurately measure the performance of mobile, online and offline call advertising.
For more information, please visit http://www.TapClicks.com, call our offices at +1.408.725.2942 or send us an email at info(at)TapClicks(dot)com.