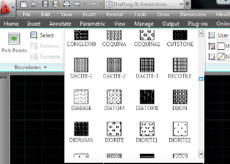 There is no editing of already existing. pat files. Individuals can wither explore the 365 Hatch Library within the "Custom" hatch dialog or within the ribbon.
Bend, OR (PRWEB) October 31, 2013
365 Hatch Patterns have been just recently updated for AutoCAD® 2014. SimpleCAD announced that their library is now compatible with AutoCAD®, AutoCAD® LT and AutoCAD® for Mac.
SimpleCAD.com just recently announced a brand-new upgraded version of their AutoCAD® Hatch Pattern Library for AutoCAD® 2014. A couple of years back, this hatch library was referred to as 100 Plus Hatch, however since the collection has been increased to 365 hatch patterns. SimpleCAD now refers to this library as 365 Hatch Patterns.
The 365 Hatch Patterns (more typically referred to as 100 Plus Hatch Patterns) is a supplement to the exiting patterns which integrate directly within all AutoCAD® versions. Ideal for AutoCAD 2014 and the new Ribbon interface. Earlier AutoCAD® versions as far back as 1997 are also supported.
Since AutoCAD release 14, hatching has provided CAD users a way to fill in areas (called boundaries) within their drawing. Pre-formatted patterns, representing a certain material are selected and applied to various areas. The patterns are useful for sectional views or in floor plan views and site or landscaping plans.
An AutoCAD Hatch pattern is made of repeating line sections, dots, and voids between each part. The 365 library enables you fill a location or boundary and select a predefined pattern either available in a pull-down or within the ribbon. Users can decide the hatch they need then apply the fill to to the various regions in their drawing.
As the name implies, there are exactly 365 AutoCAD patterns which contain shapes that show wood, stone, brick, floor tile, concrete and more. The collection includes a vast range of architectural, civil, geologic and other related patterns.
SimpleCAD Principal Erik Z, describes, "The 365 Hatch Patterns library is quick and easy to install and supports all AutoCAD applications, even those using AutoCAD for Mac Osx. We are always pleased to notify users that every year the collection is updated to keep it current with each and every Autodesk version."
Updated directions will describe how to update the AutoCAD® search path. After adding the path, menus with thumbnails are displayed within the top menu bar named "100 Plus" appears or optionally within the AutoCAD ribbon. On top of that each hatch slide has a label which corresponds to the patterns name. A printable guide is provided so that a certain patterns can be recalled from a booklet which is helpful for many when getting started.
Erik explains, "A great feature that CAD users will appreciate is how quickly this AutoCAD® add-on installs. There is no editing of already existing. pat files. Individuals can either explore the 365 Hatch Library within the "Custom" hatch dialog or within the ribbon."
Erik also adds "Even those utilizing the new AutoCAD or Mac, AutoCAD ® LT or even older releases of AutoCAD® can install the collection without any kind of compatibility issues. Remote installations are also offered if needed."
The software is meant for use on one computer/workstation only. Multiple or site licenses are readily available at a nominal charge.
About SimpleCAD.com.
SimpleCAD.com contains large CAD software repository for both AutoCAD and IntelliCAD software applications. They have been active in the CAD sector for 25 years. SimpleCAD also offers various Block Libraries, Hatch Collections and Piping / Engineering tools.
CADavenue is located in Bend, Oregon USA and is open for tech support and sales questions between 8-5 M-F PST.
Tel: (888) 271-7121
mail(at)simplecad(dot)com