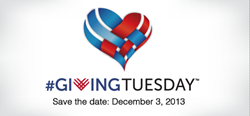 "God has provided gifts to us all, and it is our job to optimize these gifts to make the biggest impact possible on those we seek to serve." -Sam Smith, Medical Ministry International CEO
(PRWEB) November 01, 2013
Medical Ministry International has joined #GivingTuesday, a first of its kind effort that will harness the collective power of a unique blend of partners, charities, families, businesses and individuals to transform how people think about, talk about, and participate in the giving season. Coinciding with the Thanksgiving Holiday and the kickoff of the holiday shopping season, #GivingTuesday will inspire people to take collaborative action to improve their local communities, give back in better, smarter ways and help create a better world. Taking place December 3, 2013 – the Tuesday after the biggest shopping day of the year – #GivingTuesday will harness the power of social media to create a national movement around the holidays dedicated to giving, similar to how Black Friday and Cyber Monday have become days that are, today, synonymous with spending.
Medical Ministry International has joined forces with the #GivingTuesday initiative because of the great opportunity to reach others about providing compassion and healthcare in a world of need.
Seeing an opportunity to channel the generous spirit of the holiday season to inspire action around charitable giving, a group of friends and partners, led by the 92nd Street Y, came together to find ways to promote and celebrate the great American tradition of giving. Thought leaders in philanthropy, social media and grassroots organizing joined with 92nd Street Y to explore what is working in modern philanthropy and how to expand these innovations throughout the philanthropic sector. The concept gained steam, and by bringing together a group of founding partners—including the United Nations Foundation, DonorsChoose.org, Mashable, Blackbaud, charity: water, GlobalGiving, Iraq and Afghanistan Veterans of America (IAVA), Kiva, Darden Restaurant Group, Groupon, Unilever and VentureThree Capital—a nationwide series of discussions about how to make #GivingTuesday a success is already underway. Each week, new organizations have joined the movement and are providing creative ways people can embrace #GivingTuesday and collaborate in their giving efforts to create more meaningful results.
Are you tired of struggling to find a gift for someone who has everything? Give to someone who has nothing in honor of someone who has everything by clicking below!
 
http://www.medicalministrytrips.org/medical_mission_trip/medical-ministry-international-joins-givingtuesday/