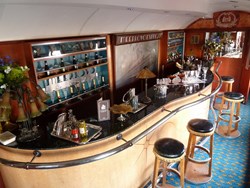 We are in a great position to provide train and rail locations, and also to offer advice, having worked with producers and railways for over 15 years.
Chippenham, WIltshire, UK (PRWEB UK) 31 October 2013
Seen The Wrong Mans? Seen the latest Meerkats ad? Looking forward to the upcoming Paddington Bear movie? All these and more have involved the expertise of Train Chartering in sourcing trains and rail locations for filming.
The Wrong Mans is a BBC / Hulu comedy series. A railway bridge was required for a scene in the last programme, in which two men jumped from a bridge into the open wagons of a passing freight train. Train Chartering located the bridge with an unused but accessible track on a private railway as well as sourcing the freight train for the jump stunt.
The meerkats are an important element in the marketing of comparethemarket.com services. The production company required an Orient Express-style carriage with a bar and saloon as well as a baggage car. Train Chartering sourced and facilitated the use of a classic bar car with saloon section and a heritage luggage brake van.
Paddington Bear is the most iconic railway-related toy, a favourite of children both in the UK and elsewhere. This fame is due to spread further with the Studio Canal production, Paddington, due for release in 2014. Train Chartering was instrumental in recommending the trains and setting up station liaison for the filming.
Simon Pielow of Train Chartering says, "We are in a great position to provide train and rail locations, and also to offer advice from having worked with both production companies and railway companies for over 15 years."
ENDS
About Train Chartering
Train Chartering, now in its 15th year, has provided private train charters and carriage hires to a wide range of clients. Train Chartering operates mainly in the UK, Europe and North America - though rail travel can be arranged almost anywhere there are passenger trains.
Extensive experience and wide contact base allows the selection of the best trains available, along with a suite of on-board services, handling every detail from complex timetabling to food, entertainment and train branding.
For more information, please visit http://www.trainchartering.com, contact Simon Pielow on +44 (0)1249 890176 or email info(at)trainchartering(dot)com.