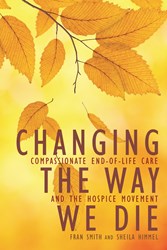 (PRWEB) October 31, 2013
Pulitzer Prize winner Fran Smith and Sheila Himmel weed out the myths surrounding hospice care, death, and dying in Changing the Way We Die: Compassionate End-of-Life Care and the Hospice Movement. As they explain in their article on Psychology Today, "There's a growing hunger to talk openly about dying," yet it's a taboo subject that nobody wants to broach. Smith and Himmel bravely take on the misinformation, fears, and fiction that shroud the realities of hospice care. They ask, "What do you want to do with the rest of your life?" What emerges is a perhaps surprising vision of hospice care as something that can offer hope to people nearing the end of their lives.
What people are saying about Changing the Way We Die:
"The words of patients and hospice people that fill Changing the Way We Die reflect great wisdom and self-honesty."
—Joan Halifax, Ph.D, author of Being With Dying
"Hospice is one of the truly humane innovations in our culture, and Changing the Way We Die not only shows why, it demonstrates the importance of treating death as part of the great mystery and privilege of being alive."
—From Sue Halpern, author, A Dog Walks into a Nursing Home
Once viewed with suspicion as a New Age indulgence or fringe religious practice, hospice is now a $10 billion a year business and arguably the most successful segment of health care in America. However, talking about death still remains taboo and socially inappropriate to discuss. In Changing the Way We Die, Sheila Himmel and Fran Smith not only address the discomfort that surrounds death, but also suggest that there is a better way to die. Through the stories of patients, caregivers, and researchers, Himmel and Smith examine the remarkable shift in practices around dying and look at the changes ahead if profits replace a dying-well philosophy.
Fran Smith has written for O: The Oprah Magazine, Redbook, Salon, Good Housekeeping, and many other newspapers and websites. A former John S. Knight Fellow at Stanford University and Pulitzer Prize winner, she lives in Dobbs Ferry, NY.
Sheila Himmel is a Psychology Today blogger and the coauthor of Hungry: A Mother and Daughter Fight Anorexia. A recipient of various awards, she lives in the San Francisco Bay Area.