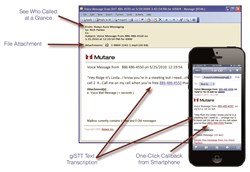 (PRWEB) November 04, 2013
Voicemail to email speeds workflow, increases personal productivity and enables faster responses to important business calls. When converted to text, voice messages can be read in any order, forwarded, searched, archived and integrated into CRM records.
Mutare's EVM Plus application with giSTT speech to text enhances Avaya voicemail systems. When using a native Avaya store for voicemail, EVM Plus copies the voice file, converts the audio file to text with giSTT and then creates an email message that is relayed by SMTP to the user's email inbox. An EVM Plus message example is below:
For customers that preferred to use Microsoft Exchange to store their voicemail, however, the process of relaying copied messages resulted in two emails for every voice message left. One email contained just the original voice file and the second email contained a copy of the voice file along with the text transcription.
Although dual message delivery is functional, it does not fully optimize work flow - as users have to delete two messages instead of one. Mutare determined the solution was to omit the message relay function and instead directly append the original message with the giSTT transcription.
EVM is able to utilize an Exchange Impersonation account. This Exchange feature uses permissions associated with the user's account to accesses the audio file in the original email. EVM then processes the audio information using our giSTT speech to text service. Instead of relaying a new message, EVM appends the original email message and inserts the text transcription into the message body. The entire process takes about two minutes, resulting in a single email message containing both the audio file and text transcription.
If during the conversion process, the user has already opened the original email containing the audio file, EVM will alert the user that the message has been transcribed by inserting the word, "Transcribed:" at the beginning of the message subject and mark the message unread.
Enterprises electing to use Microsoft Exchange store with Avaya Voicemail can now provide users with single message delivery containing speech to text transcription to improve work-flow and respond faster to callers.