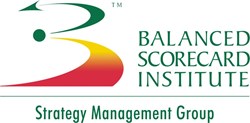 Most balanced scorecards are a picture of where an organization is today…what's needed is a picture of where it is going tomorrow. -Howard Rohm, Co-founder and CEO, The Balanced Scorecard Institute
Cary, NC (PRWEB) November 01, 2013
The presentation is intended for executives, managers and analysts who work with strategic planning systems or who would like to learn more about what's new with these systems.
Howard will present findings from his international work in 37 countries helping business and industry, government and not-for-profit organizations improve their performance by aligning employees with organization strategy, measuring what matters, and prioritizing work to focus energy where it is most effective. This presentation divides strategic planning and management into three distinct phases--strategic formulation, strategic alignment, and strategy execution--and discusses tools and techniques to "connect the dots".
Howard has 35 years of management and consulting experience, has taught and lectured at five universities, and worked with over 100 clients to help improve their performance. He is an international thought leader in strategic planning, performance measurement, and balanced scorecard systems. He has bachelor and master's degrees in engineering and is the developer of the Institute's Nine Steps to Success™ balanced scorecard framework.
About the Balanced Scorecard Institute:
The Balanced Scorecard Institute, a Strategy Management Group Company, provides strategic planning, balanced scorecard and performance measurement and management training, certification, and consulting services to government, nonprofit, and commercial organizations. Services include public and on-site courses, facilitation and consulting services, and information and tools used by executives, managers and analysts to transform their organizations into "performance excellence" organizations.
The Institute's website, http://www.balancedscorecard.org, is a leading resource for information, ideas and best practices on strategic planning and management, performance measurement, and balanced scorecard systems.