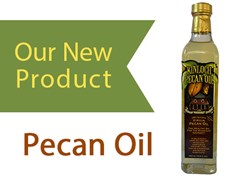 Valdosta, GA (PRWEB) October 31, 2013
Patten Pecans now offers Kinloch Pecan Oil on their website as they continue to expand their product line. This Pecan Oil is fresh oil, harvested during the current autumn, 2013, in Louisiana. Pecan Oil is a recent advance in American cooking oils.
Fresh and healthy with a neutral flavor, Pecan Oil brings the health benefits of pecans further into the home kitchen. Use as you would any oil in baking or sauces. It's also useful for sauteing, due to the high smoke point of 470 degrees F.
No chemicals are used to extract Pecan Oil. Many other cooking oils (a notable exception is olive oil) are extracted using a chemical process. Pecan Oil is 100% Virgin and expeller pressed - which means mechanically extracted, thus avoiding chemical extraction. Chemical extraction is a process that may allow chemicals to enter the food stream, while expeller pressed is considered safe and pure.
Kinloch Pecan Oil and all of Patten Pecans' products are available as gifts and for personal use and can be ordered by telephone or on their website.