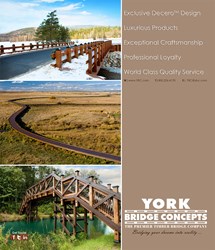 We are thrilled to share our passion for our products with the ASLA professionals. The use of timber structures, as the environmentally friendly option built from a renewable resource, is no longer a dream.
Tampa, FL (PRWEB) October 31, 2013
Founded in 1899, ASLA is the national professional association for landscape architects, representing more than 15,000 members in 49 professional chapters and 68 student chapters. The Society's mission is to lead, to educate, and to participate in the careful stewardship, wise planning, and artful design of cultural and natural environments.
Landscape architecture encompasses the analysis, planning, design, management, and stewardship of the natural and built environments. Included in their project realm, designs include academic campuses, hospitality and resorts, land planning, parks and recreation, and residential as well as urban design.
More than 6,000 landscape architecture professionals and students from across the U.S. and around the world are expected to gather at the Boston Convention and Exhibition Center. James York, York Bridge Concepts' CEO, considers that the company's inaugural participation will be essential to future development: "During our 30 years in the timber construction industry, York Bridge has been the innovative leader in the design and build of timber structures. Our patented Decero™ approach to design allows every project to develop into a unique partnership. Meticulous research and development has allowed YBC to educate our customers in the proper maintenance of their structures, through our trademarked York Bridge Services™ and York Timber Protective Systems™. We take great pride in being the industry leader, representing the finest in products and services in our business."
Advancements in protective applications and coatings have maximized timber structure longevity to last up to 75 years. This evolution has added safety, beauty and integrity - eliminating the need for premature repairs and/or replacement through YBC's approach to design/build and long-term maintenance. According to Gil Dreyfus, York Bridge's Director of Development: "We are thrilled to share our passion for our products with the ASLA professionals. The use of timber structures, as the environmentally friendly option built from a renewable resource, is no longer a dream. Our Decero™ Design team has revolutionized old-school 'timber bridges' to stunning, modern pieces of enduring architecture."
YBC's expert artisans have accumulated over a century of experience in timber construction, building each structure with dedicated excellence. With modern construction methods, expert craftsmanship and unsurpassed detail, every completed structure is thoroughly inspected to ensure the highest level of integrity and aesthetics. Elizabeth Harvey says of their experience: "Elizabethtown College had an excellent experience with the service and product provided by York Bridge. The commitment and customer satisfaction continued up to and beyond the very last stage of the process. The quality work of York Bridge has been genuinely appreciated at E-town."
Lasting partnerships are key to bridge building, both symbolic and practical. Through master craftsmanship, unique design and unmatched products and services, York Bridge Concepts™ delivers unique crossing solutions both domestically and abroad.
For more information, visit http://www.asla.org/2013meeting/ & http://www.ybc.com.
About York Bridge Concepts:
York Bridge Concepts™ (YBC) is the nation's largest on-site Timber Bridge Builder. YBC works with industry-leading owners and developers on prestigious projects both domestically and abroad, creating comprehensive crossing solutions. In this competitive real estate market, developers who want to ensure that their project stands apart from the competition use York Timber Bridges to add value and create a feeling of exclusivity, warmth and quality for their customers. Based in Lutz, Florida, with over 28 years of experience, YBC is recognized for their expertise and cutting-edge innovation in timber bridge design and on-site construction.