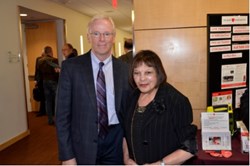 Staten Island, New York (PRWEB) October 31, 2013
Director of Electrophysiology at Staten Island University Hospital, Soad Bekheit, M.D., held the 2013 Electrophysiology Cardiac Symposium on October 23, 2013 at the Regina M. McGinn Education Center at SIUH. The two-part symposium featured four prominent doctors from heart centers nationwide who discussed new frontiers in the management of congestive heart failure and the procedures and treatments in atrial fibrillation.
Members from The Heart Institute team, along with other cardiologists, electrophysiologists, fellows, and health professionals, attended the symposium. The first half of the event included Garrie J. Haas, M.D., Professor of Clinical Medicine at Ohio State University of Medicine along with Mark Zucker, Director of Heart Failure Treatment and Transplant at Newark Beth Israel Medical Center.
The second session of the symposium focused on atrial fibrillation with a presentation by Michael D. Ezekowitz, Vice President of Lankenau Institute of Medical Research in Pennsylvania who discussed the pharmacological treatments and approaches for stroke prevention. The last speaker was Dr. Jayanthi N. Koneru from Virginia Commonwealth University Medical Center who covered treatments and devices for atrial fibrillation (AFib), including cryoablation, a minimally invasive solution offered at The Heart Institute.
The symposium ended with Dr. Chad Kliger presenting new treatments and procedures now offered at The Heart Institute, including TAVR (transcatherer aortic valve replacement), a procedure offered to inoperable patients who need a valve replacement. Dr. Kliger will be part of a comprehensive Valvular, Structural and Congenital Heart team that will treat patients with defects and diseases in the structure of the heart.
For more information on electrophysiology, the new Valvular, Structural, and Congenital Heart team, or the minimally invasive treatments offered at The Heart Institute, please contact Richard A. Clarke, at 917-868-1407 or by email: RClarke(at)TheHeartInstituteNY(dot)com.