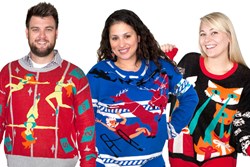 From Santa on a Toilet, to Grandma Getting Run Over By A Reindeer, the Ugly Holiday Sweaters from Stupid.com are sure to be instant hits at any party.
Los Angeles, CA (PRWEB) October 31, 2013
The holidays are all about parties - and no holiday party is complete without ugly holiday sweaters! Whether it's an actual ugly sweater party, or just for crashing a party with some tacky holiday cheer, Stupid.com has what you need to dress for laughs.
These totally outrageous sweaters are the perfect cure for the common sweater; they are crude, tacky, distasteful, and above all else funny! Politically incorrect is always in style at Stupid.com and it couldn't be more true with the introduction of the 2013 Ugly Holiday Sweater Collection:
"Toilet Santa" Ugly Holiday Sweater – Santa is both naughty and nice this year relieving himself of all those milk and cookie platters. This sweater is sure to "crack" up anyone who is need of a little extra holiday cheer.
"Granny Got It" Ugly Holiday Sweater - Grandma Got Ran Over By a Reindeer is a classic Christmas song, and now you can relieve that magic moment in front of everyone. This holiday sweater is sure to turn a few heads and maybe break a few hips!
"Stripper Elves" Ugly Holiday Sweater – Stupid.com has figured out where Santa's elves go to unwind after a hard day's work in the workshop, the "South Pole". This sweater showcases those fine lady elves working the poles and proving that naughty can be nice.
"Laser Cat-zillas" Ugly Holiday Sweater – Want to make a bold statement at your next ugly holiday sweater party? Nothing is bolder than cats shooting lasers out of their eyes. These cats will warm your hearts and anything else that gets in their laser's path!
"Pooping Moose" Ugly Holiday Sweater – This sweater combines all the class and elegance of a classic Christmas sweater with all the crudeness of a trailer park jamboree. Whether it's a party at the White House or the outhouse, style is nature's call.
All of these hilarious holiday sweaters can be purchased at Stupid.com.
Stupid.com has been spreading laughs – one gift at a time – since its burst onto the online retail scene in 1998. From great gag gifts, to silly stocking stuffers, the company offers a huge selection of over 3,500 products and 150 gift categories of crazy and insane gifts. Whether its gag gifts for men and funny bacon gifts, or geeky gifts like Star Wars gifts and Doctor Who collectables, Stupid.com is the one stop shop for the most ridiculous gifts on planet earth!