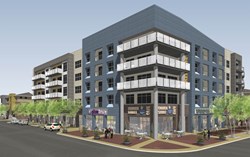 Greenville, SC (PRWEB) October 31, 2013
The Beach Company announces the completion of the land acquisition for the mixed-use development at the corner of Church Street and University Ridge Drive. The development, named South Ridge, will feature an upscale 360-unit multifamily apartment community with 10,000 square feet of complementary commercial space. South Ridge will offer a unique combination of proximity to downtown and Greenville's favorite green spaces, Cleveland Park, Falls Park and the Swamp Rabbit Trail.
Apartments will offer a variety of floor plans including studio, one, two, and three bedroom designs. Amenities will include a club room with a billiard area, bar, flat screen television, fitness center with a full line of cardio equipment, outdoor pool and sun deck, and an outdoor grill area.
Construction is targeted to begin before the end of the year, with completion scheduled for summer of 2015. South Ridge is located between the West End of downtown Greenville, and Cleveland Park and the Augusta Road neighborhoods.
Commercial leasing will be managed by CBRE | The Furman Co. Brokerage Services. For information about leasing opportunities, contact Shelby Dodson at (864) 527-6022, shelby.dodson(at)cbre(dot)com.
For inquiries about apartment leasing, contact Donna Brashier at (843) 277-3088, dbrashier(at)thebeachcompany(dot)com.
Source: The Beach Company