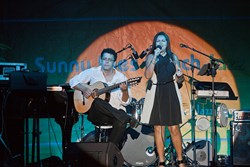 'We are both excited and honored to host this vibrant cultural event and benefit,' said Sunny Isles Beach Mayor Norman Edelcup.
Sunny Isles Beach, Florida (PRWEB) October 31, 2013
Florida's Riviera is gearing up for its 6th Annual Sunny Isles Beach Jazz Fest, taking place from Friday, Nov. 15 to Sunday, Nov. 17, 2013. Amid the backdrop of 2.5 miles of the Atlantic Ocean, Sunny Isles Beach will again celebrate the extraordinary sounds of jazz music throughout the weekend, produced by the City of Sunny Isles Beach in partnership with the Sunny Isles Beach Tourism and Marketing Council to benefit Joshua's Heart Foundation.
"We are both excited and honored to host this vibrant cultural event and benefit," said Sunny Isles Beach Mayor Norman Edelcup. "This year Jazz Fest occurs in conjunction with Miami Live Month, giving us the opportunity to show that we are a destination that offers more than top notch accommodations and beautiful beaches, but also rich, cultural experiences as well. Jazz is for everyone, just like Sunny Isles Beach."
Expected to attract more than 2,000 festival goers, this year's Jazz Fest theme is a "Tribute to Women in Jazz." The festival kicks off Friday, Nov. 15 at 8:00 p.m., with an evening of "Jazz Libations and Vibrations" at Piazzetta Marketplace and Restaurant, located at 17875 Collins Avenue inside the Acqualina Resort & Spa on the Beach. Enjoy rhythmic jazz sounds from artist Liz Sharp at this oceanfront property, while guests savor their choice of a Fagottini Di Tartufo Con Burro E Salvia or Anatra Allo Zenaero dinner entree with the special pre-fixed three course menu of the night ($65 per person plus tax and gratuity).
The main event takes place on Saturday evening at Heritage Park from 7:00 to 10:00 p.m. with gates opening at 6:00 p.m. (tickets are $15.00 per person for general admission and $50.00 per person for the VIP seating which includes tables, chairs, food and beverages). The evening will feature Nicole Yarling, Wendy Pedersen, Paulette Dozier and Ashlee Moss accompanied by the Melton Mustafa Orchestra. Heritage Park is one of Sunny Isles Beach's 10 parks and recreation centers and offers ample space for festival goers to listen to the sweet sounds of jazz and celebrate the festivities.
The beautiful Trump International Beach Resort located at 18001 Collins Avenue will close the celebration weekend on Sunday from 12:00 to 3:00 p.m. with a "New Orleans Jazz Brunch," featuring the Night Breeze Jazz Trio (tickets are $35 per person in advance, $45 at the door). Jazz Brunch attendees will enjoy the culinary delights of Executive Chef Kurtis Jantz as he takes their taste buds on a journey to New Orleans, Louisiana (NOLA). A NOLA tradition, the Trump International Beach Resort's "New Orleans Jazz Brunch" will feature all the flavors and sounds that can be found on Bourbon Street and beyond. Menu will include Chicken Jambalaya, Cajun Crab Omelet and King Cake. For cocktail connoisseurs, the 'Speakeasy' cocktail menu will offer original cocktails with a New Orleans kick.
"From Nov. 1 to Nov. 30, Greater Miami's best venues will showcase live entertainment, including live music, comedy shows, dance performances and many other incredible acts," said GMCVB President and CEO William D. Talbert, III, CDME. "We are thrilled that the Sunny Isles Beach Jazz Fest is taking place during Miami Live this year. Sunny Isles Beach is a gem that is an important part of our community, with a music scene that welcomes visitors and locals to enjoy Greater Miami's cultural richness."
Located on a two and a half mile long expanse of white sand and glittering ocean, Sunny Isles Beach is ideally positioned to take advantage of everything South Florida has to offer. This eclectic destination nestled between Miami and Ft. Lauderdale is part laid-back coastal city, and part luxury resort and shopping mecca. Whether visitors are looking for a warm-weather holiday centered around golf or tennis, a family vacation with great activities for the kids, or an extraordinary and romantic wedding or honeymoon destination, look no further than Sunny Isles Beach.
For details on the Sunny Isles Beach Jazz Fest, visit: http://www.sunnyislesbeachjazz.com