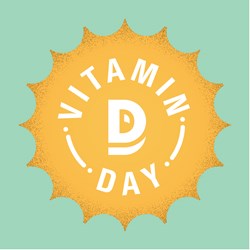 It's now quite clear that our ancestral vitamin D status was a lot higher than most citizens of the industrialized nations achieve today
Woodstock, ON (PRWEB) October 31, 2013
The Vitamin D Society is asking all Canadians to join us to celebrate Vitamin D Day on November 2nd and to assess their personal vitamin D blood levels and to take action to prevent a possible vitamin D deficiency. "Canadians should check their vitamin D level through a 25(OH)D blood serum test (ask for your test score) and ensure they are between the optimal levels of 100 – 150 nmol/L as recommended by over 40 of the top Vitamin D researchers at GrassrootsHealth(1)" stated Perry Holman, executive director of the Vitamin D Society.
Unbelievably 90% of Canadians are deficient and do not reach the optimal vitamin D level of 100-150 nmol/L. In addition, over 90% of Canadians are below the vitamin D levels that would be obtained naturally, living on the plains of Africa, where we all migrated from(2) And it gets worse. Canadians vitamin D levels are dropping. Drastically in fact. According to the Statistics Canada study, Vitamin D blood levels of Canadians, 2009-2011, Canadians vitamin D levels have reduced by 6% in the last 2 years alone(3,4). This decline was present across all age groups with the largest reduction coming from children age 6 to 11 years whose vitamin D levels fell by 10%.
Why is this happening? Today we live an indoor lifestyle. Our forefathers spent considerably more time outdoors, in the sunshine. "It's now quite clear that our ancestral vitamin D status was a lot higher than most citizens of the industrialized nations achieve today" reported Dr. Robert Heaney, MD, Department of Medicine, Creighton University.
Achieving optimal vitamin D levels is important. Dr. Michael Holick, MD, PhD from Boston University School of Medicine states "Vitamin D deficiency is a global pandemic that has serious health consequences for children and adults. Improvement in the worlds vitamin D status could significantly reduce the risk of many chronic illnesses including cardiovascular disease, type II diabetes and many deadly cancers as well as infectious diseases including upper respiratory tract infections, influenza and tuberculosis".
Vitamin D deficiency is a world problem. A recent study found that globally over one third of the population was considered to be vitamin D deficient(5). The Vitamin D Society has joined together with the Vitamin D Council, GrassrootsHealth, and InspireHealth to draw attention to world vitamin D deficiency on Vitamin D Day November 2nd.
To increase your vitamin D levels, Dr. John Cannell from the Vitamin D Council recommends "vitamin D3 supplements and either sunlight or sunbeds to get needed UV light exposure"
Help stop vitamin D deficiency. Please visit the Vitamin D Day website at http://www.vitamindday.net for additional information. Learn, educate and participate; let's get the word out!
About the Vitamin D Society:
The Vitamin D Society is a Canadian non-profit group organized to: increase awareness of the many health conditions strongly linked to vitamin D deficiency; encourage people to be proactive in protecting their health and have their vitamin D levels tested annually; and help fund valuable vitamin D research. The Vitamin D Society recommends people achieve and maintain optimal 25(OH)D blood levels between 100 – 150 nmol/L (Can) or 40-60 ng/ml (USA).
For further information, please contact:
Perry Holman
Vitamin D Society
877-520-4867
pholman(at)vitamindsociety(dot)org
http://www.vitamindsociety.org
References:
1. GrassrootsHealth – Scientists' Call to D*action
http://www.grassrootshealth.net/epidemic
2. Luxwolda MF, Kuipers RS, Kema IP, Janneke Dijck-Brouwer DA, Muskiet FA. Traditionally living populations in East Africa have a mean serum 25-hydroxyvitamin D concentration of 115 nmol/l. Br J Nutr. 2012 Jan 23:1-5
3. Janz T, Pearson C. Vitamin D blood levels of Canadians. January 2013. Statistics Canada Catalogue no. 82-624-X
http://www.statcan.gc.ca/pub/82-624-x/2013001/article/11727-eng.pdf
4. Langlois K, Greene-Finestone L, Litte J, Hidiroglou N, Whiting S. Vitamin D status of Canadians as measured in the 2007 to 2009 Canadian Health Measures Survey. March 2010. Statistics Canada Catalogue no. 82-003-XPE
5. Hilger J, Friedel A, Herr R, Rausch T, Roos F, Wahl D, Pierroz DD, Weber P, Hoffmann K. A systematic review of vitamin D status in populations worldwide. British Journal of Nutrition 2013 Aug 9: 1-23