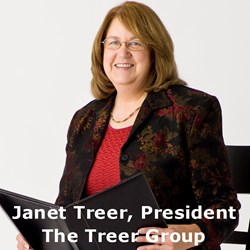 To optimize your career now and in the future, new strategies and approaches are necessary.
Lancaster, PA (PRWEB) October 31, 2013
Janet Treer, President of The Treer Group, will be keynote speaker, delivering her presentation, The Importance of Managing a Career at the 2013 Lancaster Chamber of Commerce Women in Business Luncheon. It will take place Thursday, November 7, 2013, from 11:30 am untill 1:00 pm. Register.
"In the past, many companies took responsibility for identifying promising employees and developing them for growth positions," says Janet Treer, President of The Treer Group, a strategic planning, coaching, leadership development and management consulting firm based in Lancaster, PA. "While this still happens in some organizations, it is far less common, and it is wise to take accountability for one's own professional growth and career direction."
Treer says the session will discuss how to develop a professional image, as well as create a brief bio or elevator speech. Topics will address how to:

Take personal responsibility – A career belongs to the individual and they can make choices to achieve what they want.
Conduct a self-assessment – What key skills does the individual have? What difference do they make for their employer? What motivates them? What are their natural talents?
Craft a message – create an "elevator speech" to describe a professional self. Help others to know their value.
Make a personal development plan – Consider what skills and experiences will benefit career growth and make a 2 to 5 year self-development year plan.
Get support and buy-in as needed – Review the plan with the employer and/or with trusted advisors (a mentor, a coach, colleagues, etc.).
Follow the plan – Make the plan a priority and invest in it.
"As the business climate has changed, so have career and professional development," says Treer. "To optimize a career now and in the future, new strategies and approaches are necessary. Being self-motivated and managing one's own career are key to success."
The luncheon and session take place November 7, 2013, at Meadia Heights Golf Club, 402 Golf Road, Lancaster, PA 17602 from 11:30 am to 1:00 pm. For more information and to register, visit the Lancaster Chamber of Commerce and Industry website, Women in Business luncheon.
Subscribe to Management Updates, The Treer Group's monthly bulletin.
About The Treer Group:
The Treer Group provides coaching, assessments, tools and guidance to help organizations and individuals identify areas in need of improvement, discover practical solutions and implement long-lasting change that comes from within. Janet Treer, President, founded The Treer Group in 2007.