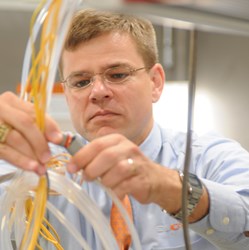 Ann Arbor, MI (PRWEB) October 31, 2013
ATMAE Executive Director Diane Dufek, CAE, announced that Dr. Thomas R. Kurfess will be the keynote speaker at the 2013 Annual Conference, Developing the Future Workforce" in New Orleans on November 21, 2013.
"This is a tremendous opportunity for our members to hear from a national advanced manufacturing expert. As a leading expert in microscale manufacturing metrology and his experience advising the top leaders on policy impacting manufacturing in our country, his speech will be a highlight of the 2013 conference," said Dufek.
He will present an overview of the Administration's endeavors in advancing manufacturing with a focus on the National Network for Manufacturing Innovation (NNMI) which was discussed in the 2013 State of the Union Address.
These efforts at the federal level are informed by our knowledge of the established strengths and perceived weaknesses of the US economy. The NNMI will be presented as it relates to the historic development of interests in manufacturing strategy identifying the technical and cultural strengths of the Nation that can be leveraged to strengthen the country's manufacturing base.
Dr. Kurfess served as a White House Fellow in 2012, and is one of the world's leading experts in the field of microscale manufacturing metrology, focused on the design and development of high-precision manufacturing and metrology systems. He earned BS, MS and PhD degrees in Mechanical Engineering from MIT in 1986, 1987 and 1989, and an MS degree in Electrical and Computer Science from MIT in 1988. Dr. Kurfess is the current BMW chair of manufacturing at Clemson University where he currently leads the Automotive Engineering Program, and is on the board of a number of organizations including National Center for Manufacturing Sciences. In his role as a White House Fellow he was Assistant Director for Advanced Manufacturing at the Office of Science and Technology Policy, in the Executive Office of the President, and had responsibility for engaging the Federal sector and the greater scientific community to identify possible areas for policy actions related to manufacturing. He was responsible for coordinating Federal advanced manufacturing R&D, addressing issues related to technology commercialization, identifying gaps in current Federal R&D in advanced manufacturing, and developing strategies to address these gaps. Although the topic of Dr. Kurfess' address is not finalized, we can expect a compelling talk about manufacturing and technology advances, their impacts on our economy, and how ATMAE faculty, students and industry professionals can keep abreast of, be part of, and benefit from these advances.
The Association of Technology, Management, and Applied Engineering (ATMAE) is an international organization that sets standards for academic program accreditation, personal certification, and professional development for educators and industry professionals involved in integrating technology, leadership and design. For more information, visit our website at http://www.atmae.org.